Tensions in the Turkish parliament erupted overnight during a vote on constitutional changes aimed at transforming the country into an executive presidency, with ruling and opposition lawmakers throwing punches and jostling each other.
Disagreements over the voting procedures sparked the row. Opposition Republican People's Party (CHP) lawmakers objected to ruling AK Party lawmakers displaying their votes rather than entering cabins set up to ensure a secret ballot. CHP member Fatma Kaplan began filming the session with her mobile, which AKP politicians tried to seize from her.
The MPs were debating the controversial 18-article reform package late on the night of 11 January. The AKP argues that bestowing power on President Recep Tayyip Erdogan, the party's founder, would strengthen the country's governance. AKP has secured the backing of the nationalist party to push the changes through parliament with the necessary vote.
On the opposition front, the CHP and pro-Kurdish HDP, among other critics, fear the changes would signify an authoritarian shift for the country. On 9 January, when the debate over the changes started, the police fired tear gas and used water cannons to disperse protesters who had gathered outside parliament.
Despite the brawl, three of the article's amendments were approved during the session, which continued until early morning of 12 January, Reuters reported. The articles passed with between 341 and 343 votes in favour in the 550-seat assembly. The debate will continue throughout the month, and a referendum on the changes may be held in the spring.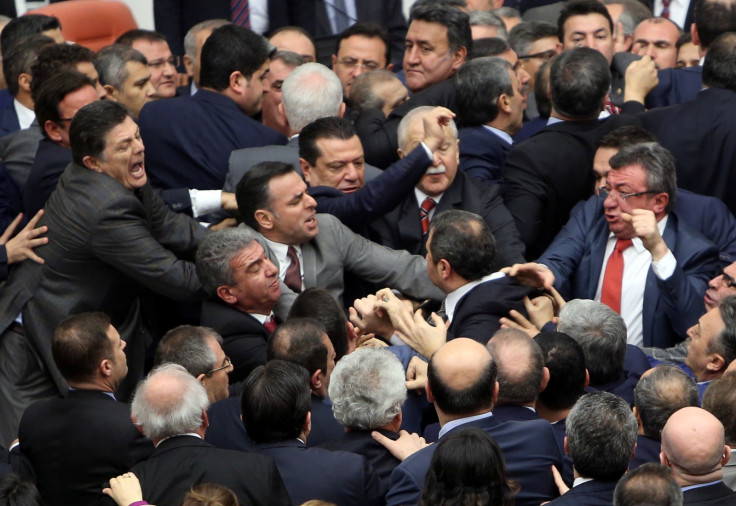 Under the present constitutional arrangement, Turkey's parliamentary democracy concentrates executive powers in the hands of the prime minister, while the role of the president is largely ceremonial. But Erdogan's influence on his party, on the government and on the country as a whole has not waned since he took on presidential duties in August 2014, having served three consecutive terms in office as prime minister between 2003 and 2014, the maximum permitted under the constitution.
Under the new proposals, Erdogan would make government appointments, take back the leadership of the ruling party, and stay in power until 2029, pending presidential and general elections in 2019, with a maximum of two five-year terms.