Loyalists have marched through Belfast and other cities in Northern Ireland to mark the Twelfth of July. The controversial parades are held every year to celebrate the anniversary of the defeat of Catholic King James by Protestant King William in the Battle of the Boyne in 1690.
Orange Order marches in Belfast have ended in violence in recent years. Many residents feel provoked by the route the Loyalist march takes past the Ardoyne shops on Crumlin Road. There was a heavy police presence this year as the march was allowed to pass through the area, considered to be Nationalist territory.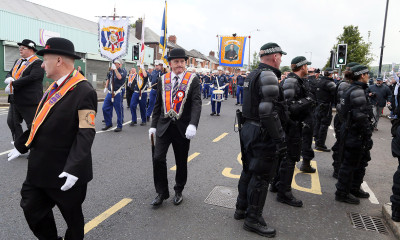 On the night before the marches, huge bonfires were lit around Northern Ireland to commemorate the lighting of fires on the hills to help King William's ships navigate through Belfast Lough at night when his forces landed at Carrickfergus to fight the Catholic Jacobites, supporters of the exiled Catholic King James II.
This year, three terraced houses in the Shankill area of Belfast were gutted or damaged by burning embers carried through the air.