Twitter reacts to Rachel Maddow's disappointing report on Donald Trump's 2005 tax return
The two pages of the president's tax return reveal he paid $38m in tax on $150m earned in 2005.
Twitter went into overdrive late on Tuesday (14 March) when MSNBC host Rachel Maddow announced she would be releasing part of President Donald Trump's 2005 tax returns. After a lengthy monologue, Maddow's report revealed Trump paid $38m in taxes on over $150m earned.
The revelation sent the media, politicians and Trump's family members buzzing on social media. Many Trump supporters noted that the report did not "fit the narrative" that mainstream media attempted to put out. Trump's eldest son, Donald Trump Jr, tweeted that the returns only proved his father was wealthy and had paid his taxes.
"Thank you Rachel Maddow for proving to your #Trump hating followers how successfull @realDonaldTrump is & that he paid $40mm in taxes! #Taxes," he tweeted. He later released a statement on Instagram, calling the media "fake news".
He wrote: "You can't make this stuff up. While they will do absolutely anything to take him down they always seem to make him look better as a byproduct of their biased and seemingly anti-American hatred."
Former Governor Mike Huckabee, a big Trump supporter, also took aim at Maddow's hyped up report. "Rachel Maddow has a REAL YUUGE story! Donald Trump is a rich man and paid a boat-load of taxes in 2005! Oh my! We never knew he was RICH!" he tweeted.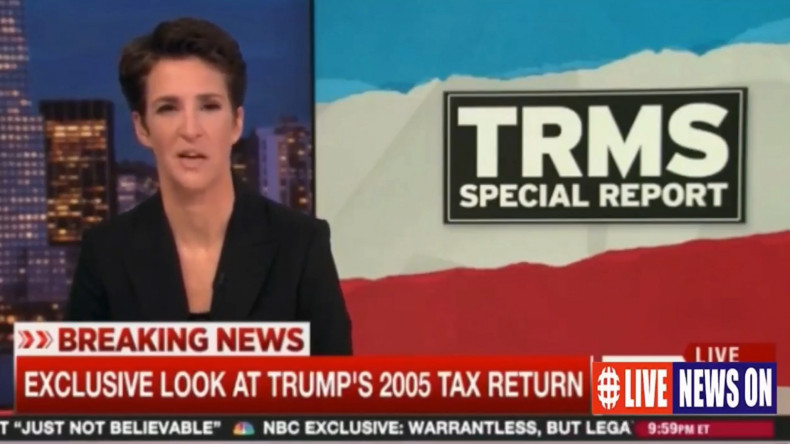 Maddow's report also appeared to disappoint Democrats, CNN reported. Brian Fallon, Hillary Clinton's 2016 campaign press secretary, called Maddow's initial breaking news tweet "the holy grail". However after the broadcast, Fallon wrote: "Dems should return focus to Trumpcare tomorrow & the millions it will leave uninsured, not get distracted by two pages from '05 tax return."
Journalists and media commentators also weighed in. Reporter Lauren Duca said Maddow's opening felt like "I am having a boring heart attack." She later added: "Regardless of opinion (on politics and / or the Rachel Maddow segment): America deserves the full release of @realDonaldTrump' tax returns".
Media commentator, and frequent critic of Trump, Van Jones told CNN's Anderson Cooper: "If all we get tonight is that Trump paid $38M to America's government, that's a good night for Trump." Jones later followed up on Twitter with: "Been kicking Trump's butt all night. But this form has Trump paying 25% tax rate. Romney=14%. Trump HIMSELF might have released THIS one."