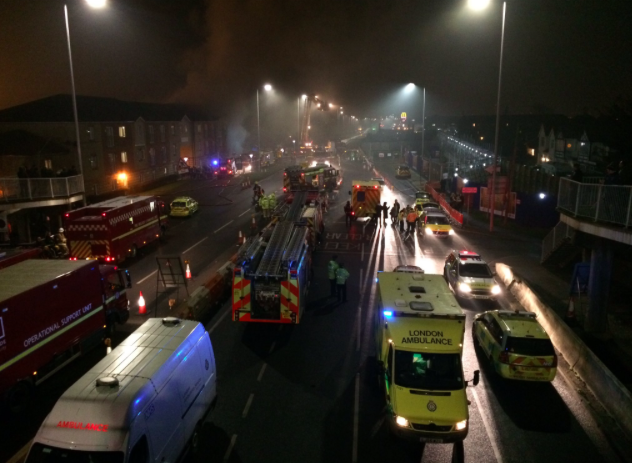 Two men have been arrested following an explosion that ripped through a block of flats in east London, causing the building to partly collapse.
The blast happened on Monday (23 January) at 5pm in Ardleigh Green Road, Hornchurch, east London, with 25 people rescued as residents were evacuated from the building.
The men arrested both required hospital treatment, and are being held on suspicion of arson, the Metropolitan Police said in a statement.
No further details on the suspects have been released.
About 60 firefighters were dispatched to fight the blaze, as it engulfed the residential block of flats following the blast.
At least five people were injured in the blaze, with four taken by ambulance to an east London hospital while a fifth person presented themselves at hospital with injuries.
London Ambulance Service said a woman and child trapped on the building's second floor had escaped down a fire brigade ladder.
London Fire Brigade station manager Paul McClenaghan said: "Crews worked hard to get the fire under control and are now making efforts to ensure the structure of the building is safe."