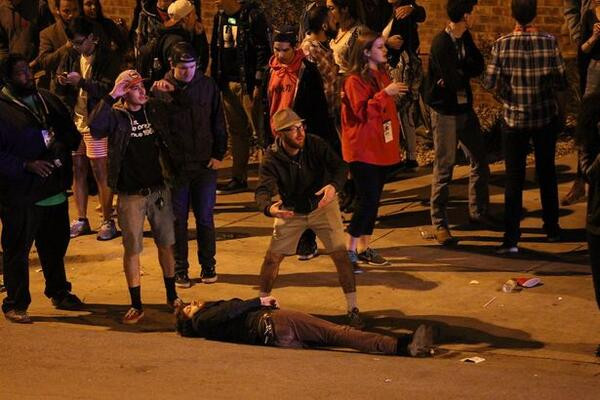 A car ploughed through crowds of people outside a venue being used for the SXSW festival in Austin, Texas on Thursday morning, killing two people and critically injuring five.
The incident happened at near the Mohawk Bar on Red River Street in Austin following a car chase involving several units of the Austin Police department. Following the incident, police used tasers to subdue the driver and arrested him.
At a press conference in the last hour, Austin Police chief Art Acevedo said the suspect will be charged with two counts of capital murder.
"This individual acted in a reckless, willful disregard," the police chief said, according to journalist Brian Hernandez.
The police were in pursuit of the suspect after stopping him initially for suspected drink-driving. The two people killed were riding on a moped at the time the car struck them.
According to Austin Police's official twitter account, 23 people were transported from the scene. The police department appealed for any eyewitnesses to come forward with any information they may have.
According to Matthew Keys, eyewitnesses reported on Twitter that a black sedan was being pursued by police around 1am local time (6am GMT) before it broke through a barricade and struck several people outside the Mohawk Bar, where several performances associated with the SXSW music and technology festival were taking place.
Audio of police dispatches during the car chase have also been released by Keys, with one of the police officers in pursuit claiming the driver "just ran through a bunch of people."
Video reaction
A video claiming to show the aftermath of the incident has also been posted on YouTube, illustrating the extent of the carnage including what seems to be emergency response personnel administering CPR to one victim before the person videoing the scene is told to shut the camera off out of respect.
Two witnesses speaking on the video say the car came out of nowhere driving at "at least 70 miles an hour."