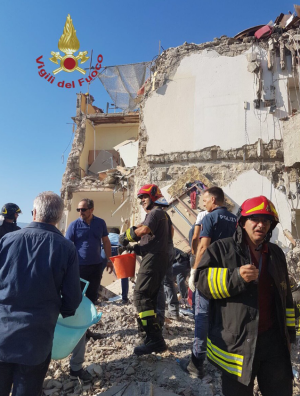 At least seven people, including two children, are feared missing after a building partly collapsed in Naples, Italy.
Vincenzo Ascione, the mayor of Torre Annunziata, said two families – one formed of two parents and two children and the other of three adults – were missing, according to news agency Ansa.
Other reports said the number of missing people stood at eight.
Firefighters aided by a team of sniffer dogs, along with volunteers and relatives of the two families, were searching through rubble for the missing.
The cause of the collapse is not known yet.
Ascione said it was too early to say whether ongoing refurbishment work could be linked to the incident.
It is believed the first two floors of the building were vacant and the two families lived on the third and fourth floor respectively.
Witnesses of the collapse said they had not heard any blast, but only the noise of the building crumbling down.
Members of the civil protection said authorities were working relentlessy to find the missing people and ensure the area was safe.
The Circumvesuviana train, which runs near the building, has been closed as some debris had fallen on the rail track.
In August 2014, two people were injured after an apartment building collapsed in Torre Annunziata. Investigations following the incident revealed that authorities had issued several orders to the building's owner to carry out works to ensure that the facility was safe, the Local news site reported.