Protestors are demanding new presidential elections and the release of jailed opposition politicians with the backdrop of worsening economic conditions and a social crisis.
They blame their government, led by President Nicolas Maduro.
The deaths come after weeks of bloody protests that has left at least seven dead.
It has been reported that an 18-year-old died in the capital, Caracas, after clashes between pro- and anti-government groups, with a woman also killed in San Cristobal, close to the Colombian border.
Maduro has accused the opposition of attacking the police and looting shops and blamed a US-backed coup for the unrest. The BBC reported that Maduro had claimed that 30 people had been arrested.
Maduro critics say his supporters are holding rival rallies, with state TV showing images of red-clad government loyalists marching "to defend the homeland".
It is feared that some of these loyalists have been armed by Maduro, whose administration is blamed for bringing the country to the brink of the world's deepest economic recession.
Inflation in the country is expected to top 700% this year, according to the IMF, despite Venezuela sitting on the world's largest proven oil reserves.
People have been struggling with chronic shortages of food, medicine and other basic goods with rampant crime taking over larger cities.
Anti-government protesters have described it as Venezuela's "second independence day" and pictures showing campaigners wading through rivers in Caracas have emerged on social media.
The teenage victim has been named by the Guardian as Carlos Moreno, who was reportedly not taking part in the demonstration but was shot when government supporters approached an opposition gathering and opened fire.
Images purportedly showing his dead body were also seen on social media, along with images of the woman, who looked to be in her 30s, who died on the same day.
Elections are not scheduled until 2019, but the opposition says the nation's economy may collapse in the face of rising inflation.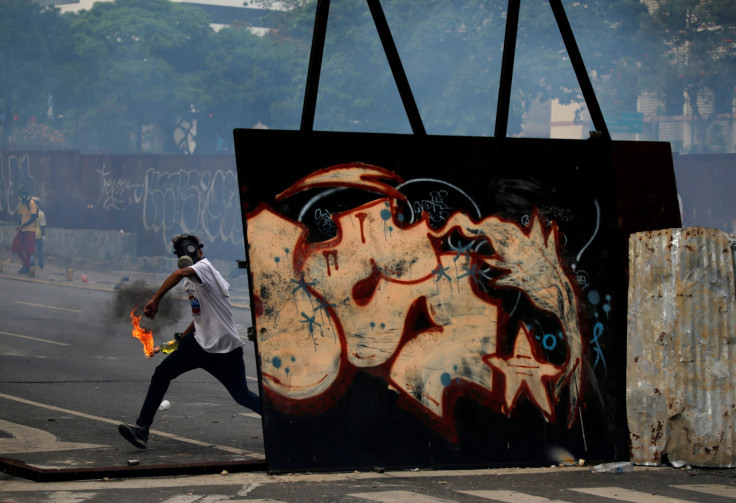 The latest protests were triggered by a Supreme Court attempt to take over power from the opposition-controlled parliament. It was construed as a power grab and was subsequently reversed.
Opposition leader and former presidential candidate Henrique Capriles was also banned from running for office for 15 years.