The Venezuelan comptroller's office on Friday (7 April) banned opposition leader Henrique Capriles from holding political office for 15 years. The move could likely affect presidential elections in 2018, considering Capriles is seen as a strong contender to challenge President Nicolas Maduro.
The country's comptroller's office, which uses a measure known as "disqualification" to block politicians from holding office if they are accused of mismanagement, said Capriles was being banned due to "administrative irregularities" in his role as governor. He is accused of breaking contracting laws and improperly managing donations from British and Polish embassies, Reuters said.
Coming down heavily on the order, Capriles, who is the governor of Miranda state, said he would continue in his post. The two-time presidential candidate called for a protest on Saturday.
"You can shove your disqualification where the sun doesn't shine. This is not one person's struggle, this is not Capriles' struggle. This is the Venezuelan people's struggle," Capriles said during a press conference after the ruling.
Capriles was defeated narrowly by Maduro in the 2013 election, marred by allegations of fraud by the opposition.
Venezuela has seen protests over the past few days, and authorities have accused Capriles of inciting violence. The protests were directed against the Supreme Court magistrates who issued a ruling last week removing the last vestiges of power from the opposition-controlled congress.
Although the court retracted the ruling over the weekend, there is widespread anger against Maduro's government in the country with no peaceful resolution expected anytime soon.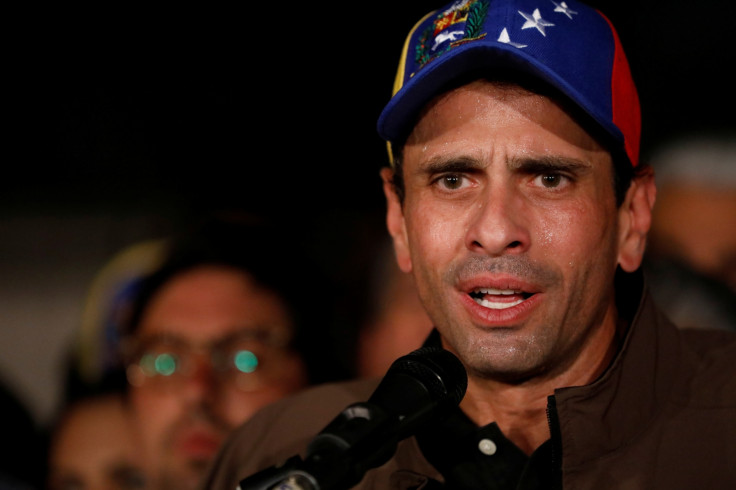 This is not the first time the country has disqualified someone from politics. In 2008, the comptroller's office had banned prominent opposition leader, Leopoldo Lopez, who was also given a 14-year prison term on charges of inciting violence during anti-government protests in 2014.