Two protesters, including a 14-year-old boy, were shot dead on Tuesday (11 April) night in the western city of Barquisimeto, Venezuela as anti-government demonstrations and unrest continues to rile the Latin American country.
The teenage boy, who was identified as Brayan Principal by opposition MP Alfonso Marquina, was reportedly shot in the abdomen. In a separate incident, a 36-year-old man was also killed, the state prosecution service said.
The local governor blamed armed government supporters for the deaths. "They go by neighbourhoods and shoot people who are protesting," opposition governor Henri Falcon said, according to Reuters.
Two students were also killed during demonstrations last week, the BBC reported. Officials announced on Wednesday (12 April) that two police officers were being charged with the death of a 20-year-old college student earlier this week.
The deaths come as protests erupt in impoverished areas known to support Venezuela's embattled President Nicolas Maduro.
According to the Associated Press (AP), Maduro was attending a rally in the poorer south-eastern state of Bolivar on Tuesday night when an anti-government crowd turned against him and began heckling him. Videos circulating on social media show protesters throwing objects at Maduro's vehicle while yelling "damn you!" A witness told the AP that people threw stones, cold water and bottles at Maduro.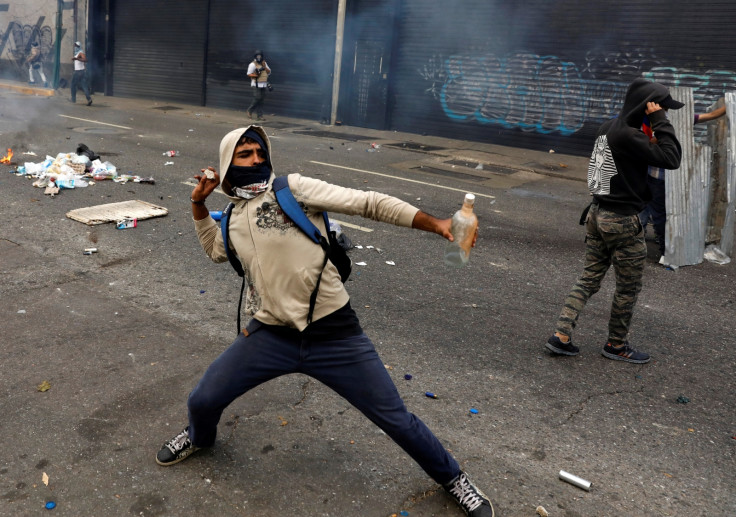 The president, whose approval ratings dropped below 20%, faces mounting pressure as the country's economy flounders and opponents accuse him of establishing a dictatorship. The BBC reported that the latest round of anti-Maduro demonstrations were prompted by a decision on Friday (7 April) to ban opposition leader Henrique Capriles from holding public office for 15 years.
Capriles urged Maduro to quit power. "Leave already, Maduro. Wherever you go here, people hate you," the two-time presidential candidate said.
Protests, which have mostly taken part in middle class neighbourhoods, spread out across slums outside of Caracas and other cities, the AP reported.
"People went into the streets last night because we are very upset," Wilfredo Martinez, who lives in the working-class neighbourhood of La Vega in Caracas, told the AP. "We're having a terrible time. We can't find food and sick people can't find medicine."
Riot gear-clad police descended on Martinez's neighbourhood in the early hours of Wednesday to regain order and stop the looting. Meanwhile, the president's administration said the opposition has exaggerated the extent of the protests.
"You walk through Caracas today and all the streets are normal, but look at social media, and Caracas is ablaze, Caracas is blocked!" Socialist Party official Aristobulo Isturiz said in an interview with state television.
Maduro has resisted calls to step down, claiming the US is backing the right-wing opposition to topple his socialist government and get control of Venezuela's oil wealth, Reuters reported.