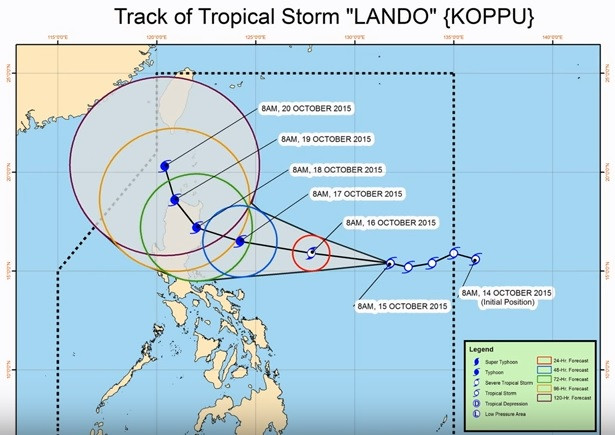 "The situation is critical because the winds are getting stronger and it will get stronger," said civil defence chief Alexander Pama as Typhoon Koppu, known as "Lando" in the Philippines, approached the country. Koppu is expected to make landfall by Saturday night local time bringing maximum sustained winds of around 120mph, according to the US military's Joint Typhoon Warning Center.
After making landfall it will trace a "painfully slow and dangerously rainy path" across the northern part of the country, The Weather Channel reported. As a result, local officials have been advised to conduct the forced evacuation of communities historically hit by flash floods, civil defence chief Pama said.
Fearing a repeat of 2013's Typhoon Haiyan which ripped through the country leaving more than 7,300 people dead and missing in its wake, many villagers have moved to safer ground or emergency shelters.
Acting weather bureau chief Esperanza Cayanan said another typhoon farther east and a high pressure area north of the country would hold Koppu in a "semi-stationary" position and shroud most of Luzon with an enormous band of thick rain clouds. "We are looking at the possible worst scenario, not to scare but to allow us to prepare," Cayanan said, adding that if it stayed 24 hours and the downpour was sustained "we will surely have floods and landslides."
Issuing his first TV storm warning since November 2013 when super-typhoon Haiyan barrelled through the country, President Benigno Aquino III appealed for cooperation to prevent casualties. He estimated that around 1.5 million families, or about 7.5 million people, would need relief assistance.
While intense rain is predicted for the country's 12 million strong capital Manila, it is thought that it will be spared from the brunt of the storm, the eye of which will likely be around 91 miles to the northwest. Nonetheless, the Weather Channel was predicting heavy damage to poorly built buildings, partial damage to more solid structures, including roof removal and damage to doors and windows.
"Given moist soil from the torrential rain, downed trees are an even larger threat, even in areas that don't see the strongest winds," they said. "Widespread power outages can also be expected."
Koppu will likely be equivalent to a Category 3 or 4 hurricane, which could cause devastating to catastrophic damage, according to AccuWeather Meteorologist Adam Douty. It will be the 12th storm to hit the Philippines this year. An average of 20 storms hit the country annually.
After slowly making its way across the Philippines, the storm is expected to continue north towards Taiwan and the southernmost islands of Japan although it will likely be much weaker, The Weather Channel said.