This is how it starts, in modern boxing and, indeed, modern politics: retired heavyweight champion Tyson Fury tweeted on Halloween: "@realDonaldTrump who do you think wins the fury vs AJ fight? You can walk me out if you want, be a part of the biggest fight ever". As yet there has been no response from the President of the United States about whether he wants to be involved in any capacity. But that isn't really the point.
The boxing world is now discussing a potential matchup between Fury and Anthony Joshua, despite all of the obvious impediments to such a contest, and that's what matters. It's a tried and tested formula for a sport which has flirted with respectability but mostly exists closer to the gutter: float the fight, sign the fight, hype the fight, fight the fight, rake in the cash; the money having been paid before the inevitably anti-climactic contest. And then repeat for as long as you can get away with it.
For more than a decade brothers Wladimir and Vitali Klitschko dominated the heavyweight boxing scene. The Ukrainian pair were so physically imposing and technically strong that they were nigh-on unbeatable. The sport was denied the only fight that really made sense as a contest because the siblings promised their mother they would never fight each other. It made for a dull narrative in a sport which thrives on drama and emotion.
Joshua and Fury were the British boxers who came along at just the right time to end the Klitschko era. Manchester-born Fury beat Wladimir with a unanimous points decision almost exactly two years ago, in one of the great boxing shocks of recent time.
Eighteen months later Watford-born Joshua became unified heavyweight world champion after defeating Wladimir on one of boxing's biggest ever nights. At his peak, the Kazakh-born boxer was world champion for 4,383 days, the longest combined world championship reign in boxing history, but he was forced into retirement after losing to Joshua in front of 90,000 fans at Wembley.
It is what came in between the two fights that makes the Fury-Joshua fight tricky.
After the self-styled 'Gypsy King' beat Klitschko in Düsseldorf his career collapsed spectacularly quickly: the rematch failed to happen, Fury failed a drug test, he renounced his world titles before they could be taken away from him, and he was stripped of his licence to fight.
That was two years ago and little that Fury has done since has involved actual boxing. Freed from the constraints of getting in shape for contests, the outspoken fighter has partied hard, piled on the pounds and spent much of his time causing controversy, often via social media.
It has kept him in the public eye but damaged his ring reputation. No matter, boxers often live in a world of extremes, bouncing between abstemiousness and excess. And being outspoken is good for the box office, recognising that the fight is only a part of a process which needs the oxygen of publicity.
Fury, who is currently sporting something of a paunch, is now posting old pictures on Twitter of himself looking fighting fit and claiming: "This is the Tyson Fury that will be returning next year, with a new style & a new persona & new goals."
The picture isn't from ancient history and Fury is still only 29. There's plenty of time for more fights and retirements yet boxers rarely know the right time to bow out.
Joshua was bound for the big time once he had become super heavyweight champion at London 2012. Olympic gold was the perfect springboard for a professional career, which saw him beat American Charles Martin to become the IBF heavyweight champion less than four years later.
But it was his epic victory over Klitschko that brought more belts and, most importantly, real substantial standing in the world of boxing. In a tussle that saw both fighters on the canvas, Joshua eventually prevailed in the eleventh round against his record-breaking opponent.
So, two British boxers have beaten one of the greatest fighters to ever grace the ring. Despite the obstacles, it is hard to see why a fight between them would not happen, at least some day, even if not immediately. Fury's tweet marks a stage in making the contest a reality.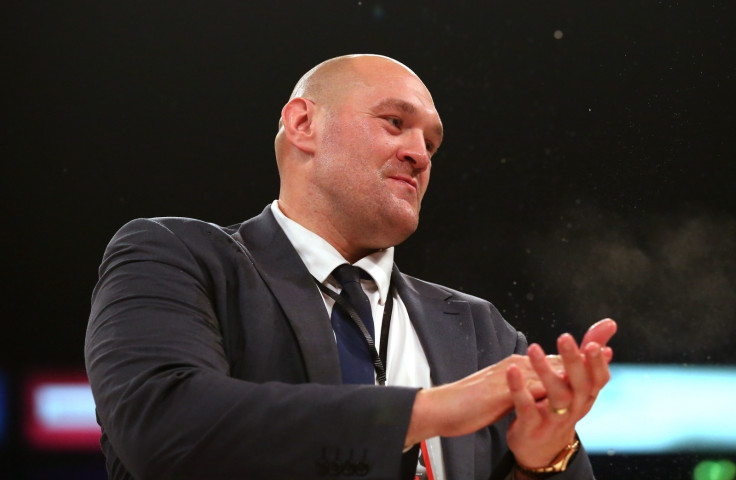 Boxing is a showbusiness that relies on public demand and anticipation. At the moment Fury needs the fight more than Joshua, but that will change.
Joshua is 28 years old, at the peak of his game, and with the world at his feet. He wants to cash in now. Somewhere on the horizon Joshua is eyeing a unification fight against WBC champion Deontay Wilder, but has also previously said this is unlikely to happen before 2020, an eternity away. Anticipation is a key part of the boxing armoury but they have to have actual fights too.
A week or so ago Joshua successfully defended his IBF, WBA (Super) and IBO titles against Cameroonian-French heavyweight Carlos Takam. But Takam was a late replacement for injured Bulgarian Kubrat Pulev and fight fans could not help but be disappointed – particularly given how expensive pay-per-view boxing has become and that the stand-in was announced after most had already paid for the bout.
Joshua has yet to respond to Fury's latest splurge on social media. With the Bolton-born fighter several stone overweight and still to face his showdown with UK Anti-Doping over his suspended drugs ban, a fight is unlikely to arrive quickly, or at least as rapidly as he would like. Joshua holds the aces. For now. But unconvincing victories against inadequate opponents will tarnish the brand. An unexpected defeat would change the dynamic even more.
Joshua versus Fury will happen because the boxing business logic for it is too strong. Boxing's administrators will find a way to let it happen, regardless of the legal loopholes involved. There is too much at stake.
The fear about boxing's best match ups is that the protagonists wait too long for it to happen. Floyd Mayweather Jr only finally fought – and beat – Manny Pacquiao, when both were well past their best.
Maybe Joshua vs Fury will only happen when they too are past their best. It would still make for a big pay day. But there's a much bigger purse to be fought for if it happens sooner rather than later.
Even with Fury's weight and drug problems, plus previously cancelled comebacks, he is the only genuinely exciting potential opponent for Joshua. Fans may have tired of Fury's circus, his dispiriting opinions and unpleasant sexism and homophobia, but his display against Klitschko still makes him a big attraction. Absence has made the heart grow fonder.
Furthermore, for every year which goes by without Joshua and Fury going head-to-head, the questions over the Watford fighter will grow. This is as much about legacy for Joshua as it is about a resurgence for Fury.
It is the fighters' job to make the public care again. Fury's current Twitter frenzy is part of that campaign. A retweet from the American president to his 41 million followers would certainly help – and with this president anything is possible.