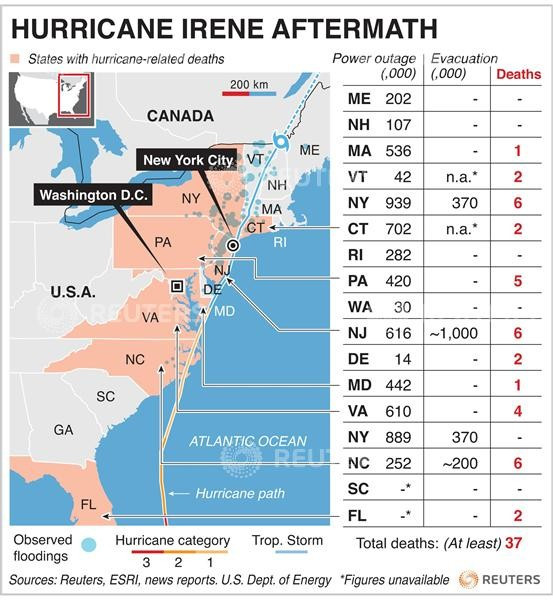 Thousands of British travellers could face day's stranded at airports across New York City and other parts of the U.S. as airlines struggle to clear the backlog of flights following Hurricane Irene.
The nation's transportation system was nearly back to normal, giving hope to vacationers looking for a trouble-free Labor Day getaway. Airlines are beginning to resume normal service but passengers face delays as UK-bound flights are already full, the BBC reported Tuesday.
In a press release, British Airways said Tuesday afternoon that they expected to run a 'full' schedule from U.S. cities on Tuesday but are urging travellers to check the status of flights before travelling to the airport. It is still unclear exactly how many UK passengers are stranded across New York and other American cities but the Association of British Travel said as many as 10,000 holiday makers could be in New York City alone.
The Latest Travel Advice from British Airways;
If you are travelling up to 03 September and your flight is not cancelled, British Airways has introduced a flexible booking policy for customers flying from Boston and New York (JFK and Newark) to London up to 03 September 2011 and whose flight has not been cancelled.
If your ticket was issued no later than 25 August 2011 then you are able to rebook for a later date, up until 19 September 2011. If passengers would like to travel to an alternative destination instead, you may use the money you have spent on a flight to/from these cities towards the purchase of a new ticket. Customers may travel at any time on a new ticket purchased.
Advice for Passengers Stranded
The most important piece of information for travellers is to contact your airline. The contact number for British Airways in the U.S. is 1 800 247 9297 and their lines are open 7am to 1 am local time. The contact number for Virgin Atlantic in the U.S is 1 800 821 5438.
As a stranded passenger you have the right of care by your airline. An ABTA spokesperson told the BBC Tuesday that European airlines were obliged to pay for reasonable day-to-day expenses such as food, refreshments and overnight accommodation until their customers returned to the U.K.
Useful Contact Information
National Travel Health Network and Centre
Foreign and Commonwealth Office Travel Site
British Airways Disruption Service