The intelligence service in the United Arab Emirates (UAE) is actively creating an "elite task force" of cybersecurity experts from around the world to help develop a surveillance system that can be used to spy on any civilian in Abu Dhabi and Dubai. That's the claim of Italian security expert Simone Margaritelli, senior researcher with US-based cybersecurity firm Zimperium, who has published a first-hand account of how an allegedly government-sponsored firm tried to hire him to help build a state-of-the-art surveillance apparatus.
Margaritelli, who was reportedly targeted due to his work on an open-source data interception tool called Bettercap, said he was initially contacted about a potential job on 3 July by an Italian employee of a New York security firm called Verint Systems, which sells surveillance technology to governments and runs a significant operation in the Middle East.
In email correspondence with this contact, published on his website, the researcher was told the UAE was creating "a research and development unit that will constitute their most advanced branch of cybersecurity, to the exclusive benefit of the national security".
After travelling to Dubai on 20 July, Margaritelli said the situation quickly became "extremely shady". In one meeting, the researcher said he was told the "mastermind" of the UAE project is a man called Faisal Al Bannai, who is currently listed as chief executive of a security firm called DarkMatter.
On its website, DarkMatter calls itself a "trusted partner to the UAE government". Margaritelli goes one step further, claiming the firm is "deeply rooted within the Emirates Intelligence". He added: "My Italian contact often referred to Al Bannai as the 'big boss'. Though I never got to meet him, his involvement was made abundantly clear from the get-go."
This is a fairly bold assertion. Al Bannai is a well-known name in the telecommunications world – having founded Axiom Telecom back in 1997. IBTimes UK has found no evidence to suggest that he, or DarkMatter, has links to UAE intelligence operations.
In any case, Margaritelli claimed to have been told more about the full scope of the operation, which was allegedly described as "a series of man in the middle (MITM) and man on the side operations and technologies on a massive scale, with hardware probes capable of intercepting, modifying, and diverting traffic on IP, 2G, 3G, and 4G networks."
Recently, the New York Times detailed how countries, including the UAE, purchased off-the-shelf surveillance products from firms like Hacking Team to deploy spyware on over 1,000 people. However, Margaritelli said his attempted employment indicated the government was now choosing to develop its own spy technology rather than rely on malware and spyware already on the market.
More snooping powers than ever before
According to Margaritelli's Italian contact at Verint Systems, the surveillance network will mean that – when completed – cyber spooks will have more snooping powers than ever before. Once the interception component of the system is developed, a second team will be made to create "offensive" capabilities, he added.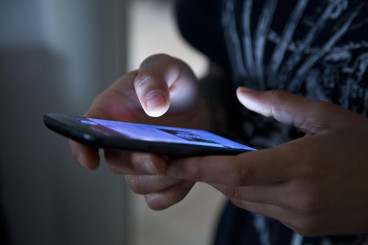 Furthermore, the researcher said he was informed that UAE telecommunications firms have already agreed to the government plans to place surveillance "probes" in public places, including public shopping malls and airports.
In one email sent to the researcher, Margaritelli's contact claimed: "Imagine that there's a person of interest at the Dubai Mall. We've already set up all our probes all over the city, we press a button and BOOM! All the devices in the Mall are infected and traceable."
These probes, Margaritelli asserted, were likely part of a secretive mass surveillance system called "Falcon Eye", which was recently exposed in detail by Middle East Eye. This UAE-based spy programme, which reportedly focuses on Abu Dhabi and Dubai, has been branded as "huge" by at least one anonymous source close to the project.
"It sounds like sci-

fi

, but it's happening"
"Every person is monitored from the moment they leave their doorstep to the moment they return to it," said the source, who was granted anonymity due to the sensitivity of the subject. "Their work, social and behavioural patterns are recorded, analysed and archived. It sounds like sci-fi but it is happening today in Abu Dhabi."
For his trouble, Margaritelli told the Middle East Eye he was offered a monthly tax-free salary of $15,000 along with an apartment and bonuses if he joined the project. After initially rejecting the offer, the offer was reportedly raised to $20,000 a month. "They probably would have raised it even more," he added.
On his website, Margaritelli wrote: "These people try to draw in young IT security talents by promising large sums of money, various bonuses, apartments, and most of all, by presenting a professionally and intellectually stimulating environment.
"If by chance someone should raise an objection regarding potential targets and the somewhat questionable scope of the operation, they'd receive no more than a patronising lecture on how things have been blown out of proportion." After leaving the UAE on 25 July, he rejected the job offer.
Update: 7 August - DarkMatter has responded via email.
A spokesperson said: "DarkMatter does not comment on individual allegations or assertions about its staff, operations or engagements. We can confirm that DarkMatter has not interviewed Simone Margaritelli. Furthermore, DarkMatter does not have its own products nor has current plans to develop its own solutions in the monitoring/surveillance space.
"On this subject however, we see nothing wrong in companies selling monitoring systems legally to legitimate reputable nations to protect themselves in the world we live in, as many global reputable entities already do and most government's already deploy. We would like to emphasise that DarkMatter is and will remain fully compliant with the laws and regulations of the jurisdictions within which it operates.