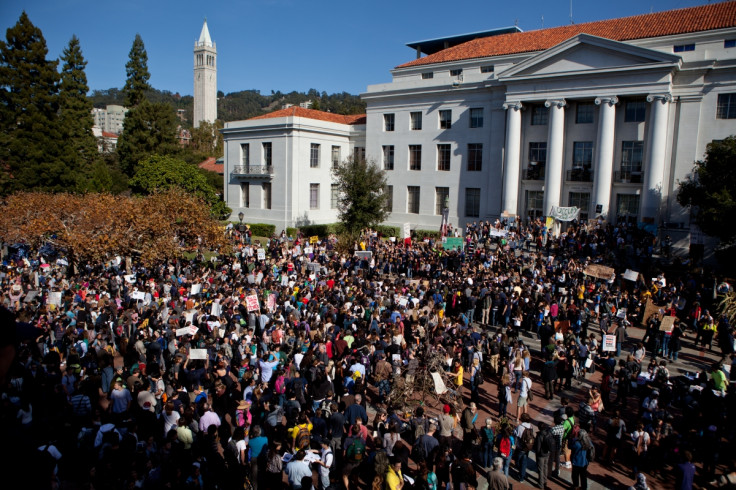 The head of the University of California at Berkeley is facing the heat after a pricey new exit was built in his office that will allow him to dodge protesters.
The new $9,000 door was constructed over a recent weekend to give embattled Chancellor Nicholas Dirks a quick, easy exit out of the building in the event of a student protest, the local student newspaper reported.
The new door was planned in mid-2015 after protesters occupied the chancellor's offices, chanting and banging on desks until they were taken out by campus police. No one was injured in the incident. Protesters were demanding community-friendly commitments such as protection of affordable housing around a new campus planned in Richmond, California.
Campus spokeswoman Claire Holmes said in an email to the student newspaper the Daily Californian that the new exit was installed as a security measure to "provide egress to leave the building."
Funding for the exit came from the Be Smart About Safety programme — which provides a pool of money available to the entire university system that's intended to protect students and workers from crime.
A staff editorial in the student paper attacked the move, saying that "when students have something to say, administration should open the door, not create new closed ones." The editorial noted that "occasional disruption of administrators' daily lives is an important tool for students to ensure their voices are heard."
Dirks has been lambasted by faculty and students over his poor handling of a series of sex harassment cases by professors, and a $700,000 security fence built around his official residence.
He is currently under investigation by authorities after a whistleblower accused him of using a university gym complex and personal trainer without paying for them. The whistleblower also alleged that Dirks used university funds to pay for the trainer to accompany his wife on a vacation to India, reports KQED.
Sit-ins at administrative offices at universities across America became a popular form of protest in the 1960s during the Vietnam war, especially at Berkeley, the site of the Free Speech movement.
Chris Yamas, a senator of the Associated Students of the University of California council, said protests are part of the campus tradition, and that while there have several demonstrations throughout the tenure of several chancellors, none has ever been harmed.
"There has to be other ways to handle student concerns and protests than simply building ways to avoid them," Yamas said.