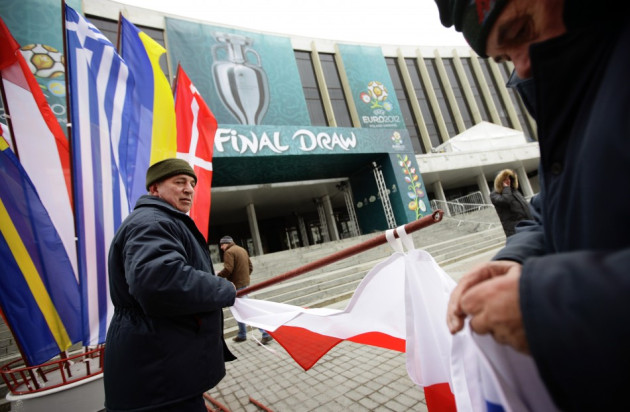 1. According to the office for National Statistics there were around 515,000 Poles living in the UK as of March 2010.
2. Deputy Prime Minister Nick Clegg could qualify to play for the Ukraine at Euro 2012 thanks to his paternal grandmother, Kira von Engelhardt. She was the daughter of a Ukrainian baron who fled the Bolsheviks during the 1917 revolution. He could also qualify to play for the Netherlands through his Dutch mother, Hermance van den Wall Bake.
3. Andriy Shevchenko is Ukraine's most celebrated footballer. He has played for his country 105 times and captained them on 52 occasions. He's also a legend in Milan where he became the club's second highest goal scorer ever with 175 goals in 296 games. Incredibly, the former Chelsea striker's entire family had to abandon their home after the Chernobyl Nuclear disaster in 1986, and move to the coast in fear of radiation sickness.
4. As joint hosts, Poland and Ukraine are guaranteed a place at the finals, which is just as well as history really isn't on their side. Poland have only ever qualified once for European Championship in 2008, while Ukraine have never been to the finals.
5. Depending on whom you listen to the Ukrainian capital Kiev is home to the world's deepest underground railway station. The Arsenalna station is 105.5 metres below ground. The deepest London underground station is Hampstead on the Northern line at 58.5 metres.
6. Both Poland and Ukraine celebrate the tradition of Wet Monday over Easter. It has its origin as part of a pagan rite of spring where the pouring of water and switching oneself with willow branches is an act of cleansing and renewal. Nowadays, however it's just an excuse for groups of boys to throw buckets of water over attractive girls.
7. Stray dogs and cats are being slaughtered to cleanse the country before it hosts the tournament in an attempt to have an "animal free" party atmosphere.
8. According to the Russian food historian William Pokhlebkin, the popular dish of Chicken Kiev wasn't actually created in the Ukrainian capital. It was dreamt up in the kitchens of the Moscow Merchants Club in the early 20th century and only later was it claimed by the restaurateurs of Soviet Kiev.
9. Dynamo Kiev won the Ukrainian Premiership nine years on the trot from the 1992/3 season until 2000/1. In fact, during the 20 year history of the Ukrainian Premiership, Dynamo have won 13 times. And on the seven occasions when they didn't win it, they came second.
10. The top rated hotel in Kiev, according to Trip Advisor, is Oselya but prices have already escalated to £81 a night during the tournament.