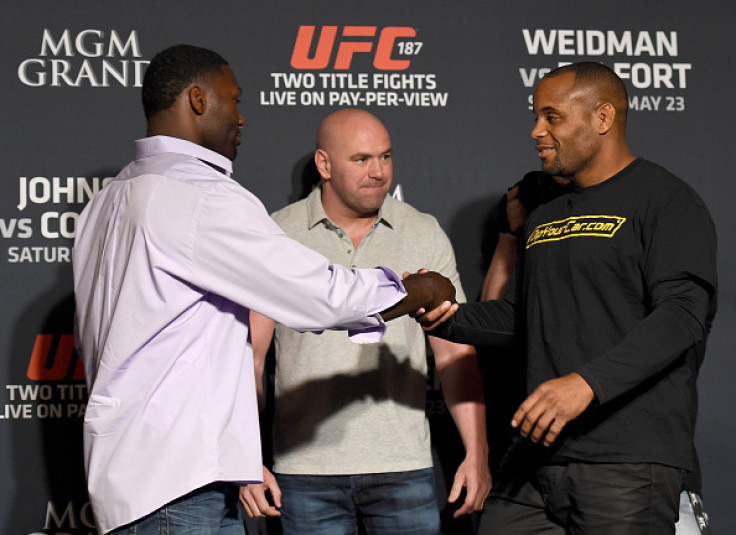 Anthony Johnson will take on Daniel Cormier in the Ultimate Fighting Championship (UFC) 187 Light Heavyweight at the MGM Grand Garden Arena in Las Vegas, Nevada on 23 May.
Where to watch live
The Main Card event starts at 10pm BST on Saturday. Live coverage is on BT Sport 2 and BT Sport app. Live streaming of the link is available on UFC's official website. The fight between Anthony Johnson v Daniel Cormier is set to start at 3am BST (Sunday).
Overview
Neither Johnson nor Cormier are the defending UFC Light Heavyweight champions. The fight was supposed to be between Johnson and Jon Jones. However, the latter was stripped of his title on 28 April and also suspended from UFC indefinitely in connection with a hit-and-run case he was involved in.
Jones' suspension allowed Cormier to replace him and he will face his compatriot for the vacant title. The 36-year-old lost to Jones by unanimous decision (49-46, 49-46, 49-46) when he last faced him at UFC 182 in January.
The winner of the fight between Johnson and Cormier will be crowned as the Light Heavyweight champion and both of them will be hoping to get his hands on the title this weekend. Before the start of the fight, there are four other Main Card Events scheduled for the day.
What they say
Anthony Johnson: "I really mean (this is a tougher fight). This is 'DC's' second chance. When people get second chances they tend to go a little bit harder. He's going to come at me like a bulldog and I expect that. The fact that I expect it means it won't surprise me with anything he brings. I know what I'm getting myself into and so does he."
Daniel Cormier: "You learn from your mistakes. So I lost to Jones and I had a 14-week training camp. So I was sitting back going, okay maybe I'll do eight weeks. So I started before, we were doing light stuff. We didn't do anything intense. Then when they give me the fight, I was training for three weeks already. So now I have a six-week camp, instead of an eight-week camp, and I'm fine with that."
Betting odds
Anthony Johnson to win: 19/20
Daniel Cormier to win: 9/10
Main Card Event
Light Heavyweight: Anthony Johnson vs Daniel Cormier
Middleweight: Chris Weidman vs Vitor Belfort
Lightweight: Donald Cerrone vs John Makdessi
Heavyweight: Travis Browne vs Andrei Arlovski
Flyweight: Joseph Benavidez vs John Moraga