Ultimate Fighting Championship (UFC) superstar Conor McGregor has hit out at Eddie Alvarez, calling him a "broke bum that cannot afford to pay his bills". The Irishman also claimed that he is set for a huge payday from the UFC 205 event.
President Dana White confirmed on 27 September that Conor McGregor would face Eddie Alvarez for the headline bout at the UFC 205 event, which is set to take place in New York on 12 November. "The Notorious", who is the current featherweight champion, will not defend his title, but will look to add a second belt to his collection. He is challenging Alvarez for the lightweight title.
The 28-year-old tore into his opponent at the UFC on-sale press conference at Madison Square Garden and said, "He got it done by signing his last contract. He didn't even negotiate new money for himself. Imagine that. Look at everybody up here. They're all dressed like me. They're all trying to talk like me. They're all trying to be like me. Everyone in the game wants this fight. This is the lottery fight. And this man took it on his last contract,"
McGregor said, as quoted by MMAFighting, "Imagine that. Imagine getting the biggest fight in the game and the UFC saying, "Shut your mouth, kid, you'll get paid what you did on your last fight and you're lucky you're getting that.
"You're just another broke bum trying to sell some shit. That's it. He's broke and he's desperate. And he's trying to make it, 'McGregor is this, McGregor is that.' We've heard it all before. He's just another broke bum that can't afford to pay his f*****g bills. So that's all that is."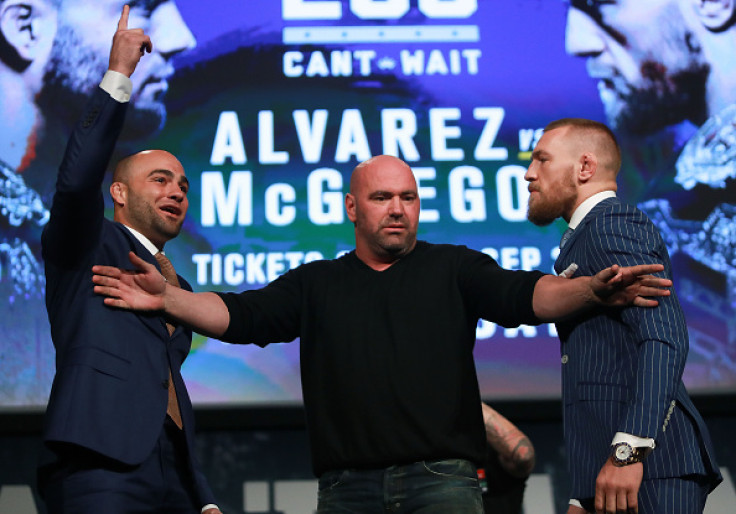 The featherweight champion has been on a roll recently, beating Nate Diaz in their rematch at UFC 202 in Las Vegas. The former won the match by a majority decision, thus taking revenge for his loss at UFC 196, where he lost via submission in the second round. That was the first defeat of his UFC career.