Ultimate Fighting Championship (UFC) featherweight champion Conor McGregor will become the first wrestler in UFC history to hold two belts simultaneously should he beat welterweight champion Eddie Alvarez at the historical 205 event in New York.
The Irish superstar who is yet to defend his featherweight title since beating Jose Aldo at UFC 194 is willing to relinquish the belt but on one condition. Speaking to the media, Notorious claimed he would be willing to surrender the belt but only after he fully enjoys what would be a historic moment for both him and the company.
"Let me see the pictures on the publications with a belt on each shoulder first. Let me go onto the side of the Octagon and raise two world titles, what's never been done before, before talking about stripping me. Let me get the f*****g things, let me do it. I'll always listen to the correct business move and I'll always do what is the correct move but let me do it and let me go back and look at some pictures of me with two belts and let me embrace for half a day", said McGregor as quoted by MMAJunkie.
The 28-year-old, who is arguably the biggest superstar in Mixed Martial Arts (MMA) history, comes into this clash on the back of a win over Nate Diaz at UFC 202. The Irishman gained revenge over the American fighter for his loss at UFC 196, the first loss of his career in the company. McGregor was keen to secure a "trilogy fight" with Diaz only for president Dana White to book him for a fight with Alvarez.
"It's the media that's making this. Let me look at the historic images we're going to get on this night, me with these two belts. That's what everyone should be excited about, this is history. Everyone wants to see you do good, but not better than them. That's what happening here. I'm just looking forward to raising the belts, and doing what has not been done before. Don't be trying to take away the historic moment before I've even experienced it", the Irish superstar added.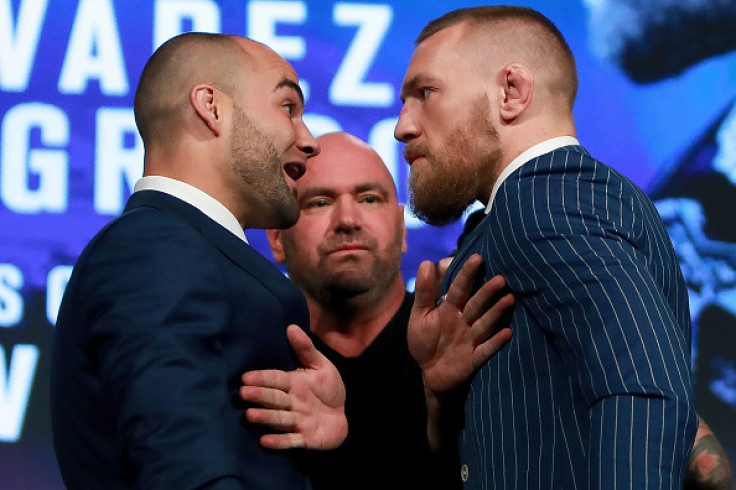 The McGregor vs Alvarez fight is scheduled to take place on 12 November at the UFC 205 event at Madison Square Garden in New York.