The return of The X-Files series has prompted the Central Intelligence Agency (CIA) to release a series of declassified files from the late 1940s and 1950s relating to UFO sightings. Titled as "Take a Peek Into Our 'X-Files'," the blog released by CIA reveals a trove of documents regarding the existence of extraterrestrial activities.
Taking a pick at the popular Fox series, the top investigative agency of the US said FBI agents Mulder and Scully might find it interesting to investigate the sightings.
"Below you will find five documents we think X-Files character Agent Fox Mulder would love to use to try and persuade others of the existence of extraterrestrial (sic) activity," the blog reads. And added: "We also pulled five documents we think his skeptical partner, Agent Dana Scully, could use to prove there is a scientific explanation for UFO sightings."
The now-declassified documents reveal suspected sights of unidentified flying objects and suspicious "alien activities" in different parts of the world.
The report reveals witness accounts of sighting flying saucers in Spain and North Africa. "As I crossed Jose Antonio Avenue on my way to the newspaper office, I saw a strange object flying at high speed from the direction of Prat Airport, about 2,000 meters above ground, and leaving a wide smoke trail," reads one witness account, narrating the sighting of a suspected object hovering over Barcelona on 22 May 1952.
"It did not look like an aircraft and unlike the so-called flying saucers, it was proceeding in a straight line without emitting flashes of lights or revolving on an axis. The object seemed to me to be rocket-shaped and the smoke came out of two points together, merging into a single streak," the witness added.
In another document, a 48-year-old mayor of Gleimershausen, Germany, reports encountering a "huge flying pan" with a diameter of 15ft, which landed in a forest clearing in the Soviet zone of Germany. In the report, Oscar Linke claims seeing extra terrestrial activities while he was returning home with his 11-year-old daughter. He also claims of seeing two men dressed in "shiny metallic clothing were looking at something lying on the ground".
"I would have thought that both my daughter and I were dreaming if it were not for the following element involved: When the object had disappeared, I went to the place where it had been. I found a circular opening in the ground, and it was quite evident that it was freshly dug. It was exactly the same shape as the conical tower," Linke testified to a judge then.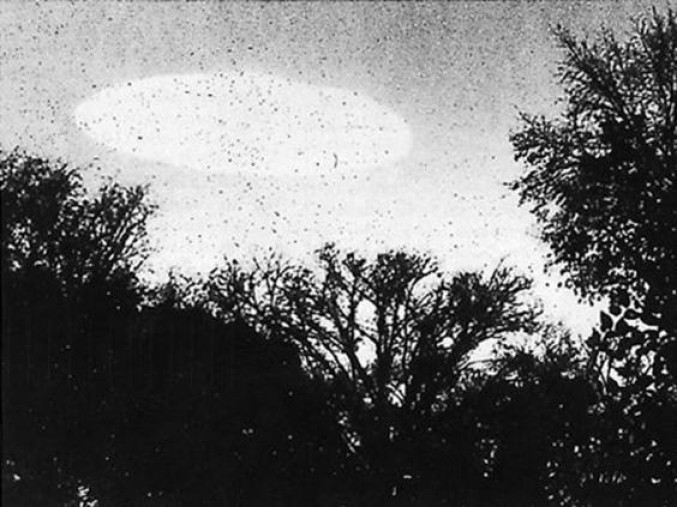 The CIA documents also talk about the sighting of "two fiery disks" hovering over uranium mines in Africa. Apart from the documents, the US investigative agency also released two pictures of suspicious UFOs flying over Sheffield, England, and Minneapolis, US, in the 1960s.
The existence of UFOs have always been a hot topic of discussion. While many people believe in its existence, many choose to go the scientific way of explaining the mysterious sightings across the world.
Recently, a group of researchers concluded that the chances of existence of aliens outside Earth is bleak because they might be dead. This definitely sounds like a logical explanation and in a way quashes all theories and claims that aliens hover above earth with their ultra-high tech UFOs to keep a tab on the humans.