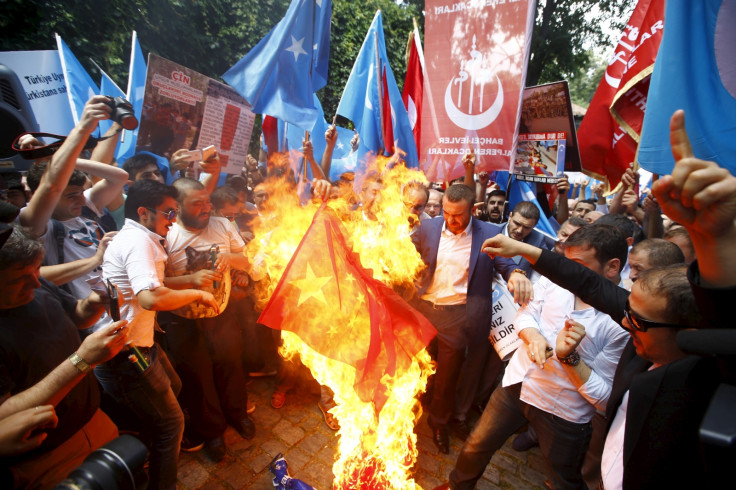 Uighurs deported from Thailand had planned to carry out jihad in Syria and Iraq, claims China's official news agency.
The report said that 13 of the 109 Uighurs were terror suspects, and showed images of them sitting with black hoods over their heads. Some had large numbers pinned to their chests as they sat in a commercial aircraft surrounded by Chinese police in face masks.
The reports in China allege that Uighurs imparted and perpetuated extremist religious thinking while they were being trafficked, and instigated that they go to Syria and Iraq to participate in so-called 'jihad'.
However, the repatriations were criticised by the UN refugee agency as "a flagrant violation of international law."
Uighurs who reached Turkey were being sold to fight for groups, such as Islamic State, as "cannon fodder" according to Reuters.
Concern among human rights groups and the United States that they could be mistreated upon their return.There are currently 20 million Muslims are living across China, with only a small portion of whom are Uighurs, a Turkic-speaking Muslim minority in China's far western region of Xinjiang.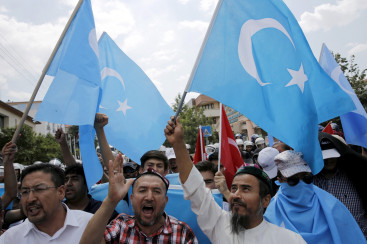 Beijing denies accusations by human rights groups that it restricts the Uighurs' religious freedoms. It blames Islamist militants for a rise in violent attacks in Xinjiang in the past three years in which hundreds have died.
China has also denied allegations of torture or mistreatment.
Dilxat Raxit, spokesman for the exiled group, the World Uyghur Congress, said the pictures of Uighurs in hoods gave him great cause for concern, and that they wanted to leave China and live elsewhere without fear of discrimination.
"They've been stripped of their dignity," he said in an email statement.
China's Foreign Ministry, said the US statement distorted the facts, was prejudiced and would only encourage further illegal immigration, said in a statement on Saturday.
"China is extremely dissatisfied and resolutely opposed to this, and has already made serious representations with the U.S. side," the ministry said.
"We urge the U.S. side to properly view China's efforts to fight illegal immigration and stop making wrong statements."
Dilxat Raxit, World Uyghur Congress spokesman, said on Sunday (12 July) that "China is defending itself and shirking responsibility for Uighurs fleeing because of its policy of suppression. The so-called radicals are those who hope to flee China and live a stable and dignified life in a safe and free country."
Foreign ministry spokeswoman Hua Chunying has spoken on China's "strong dissatisfaction with and opposition to" the US State Department concern about the protection of asylum-seekers in Thailand because of the case.
Wall Street Journal reports that hundreds to thousands of Uighurs are eager to escape unrest in China's western Xinjiang. They travel clandestinely via south-east Asia to Turkey, claiming cultural and religious suppression by China.