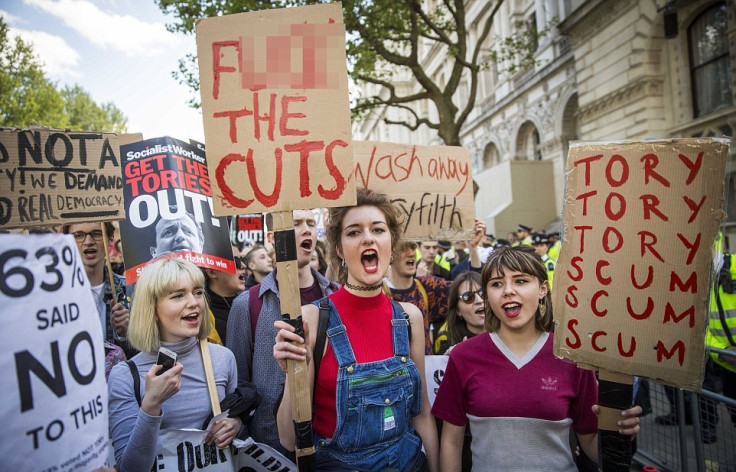 Staunch left-wing activists desecrated a memorial dedicated to the women who served during the Second World War and left several officers injured after violent clashes with police.
Police said a 100-strong crowd of anti-austerity protesters gathered outside Tory HQ before moving on to Downing Street in protest at Thursday's Conservative election win, which saw David Cameron return to office with a clear Commons majority.
The group, calling itself The People's Assembly, gathered at Whitehall, where the mob chanted 'get the Tories out' and wielded home-made banners with the message: "F*** The Cuts'." The protesters included members of the Socialist Worker Party. Others brandished flags proclaiming membership of hard-left anarchist organisations.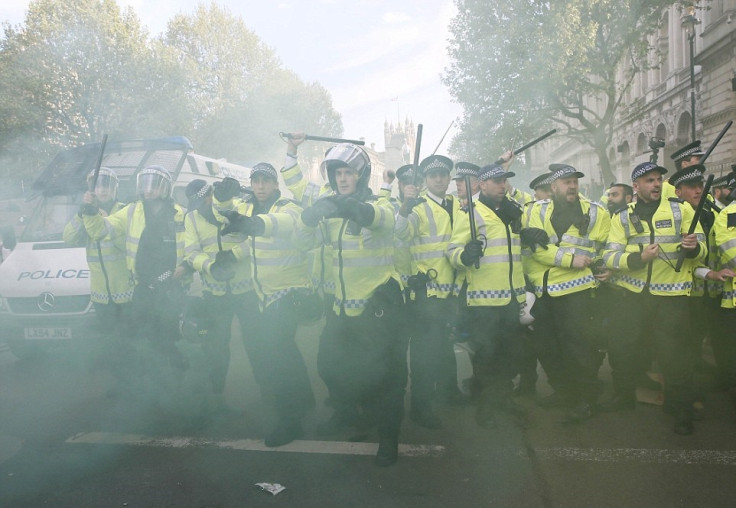 A large police presence met protesters outside the Conservative campaign headquarters, where David Cameron had issued a rousing speech to party activists just 24 hours earlier.
Large sections of the city were shut down as a result of the demonstration which turned violent as protesters hurled bottles, cans and smoke bombs and even a bike at the lines of police outside the gate protecting the Prime Minister's official residence.
Several hundred people joined the unofficial demonstration with at least 25 youths concealing their identity with face masks, sunglasses and balaclavas.
The anarchists clashed with police leaving two officers requiring hospital treatment while a further five officers were assaulted, but did not require hospital treatment. The Metropolitan Police were forced to deploy officers on horseback and riot police in response to the violent scenes.
On social media, protesters complained they were being 'kettled' by the Police.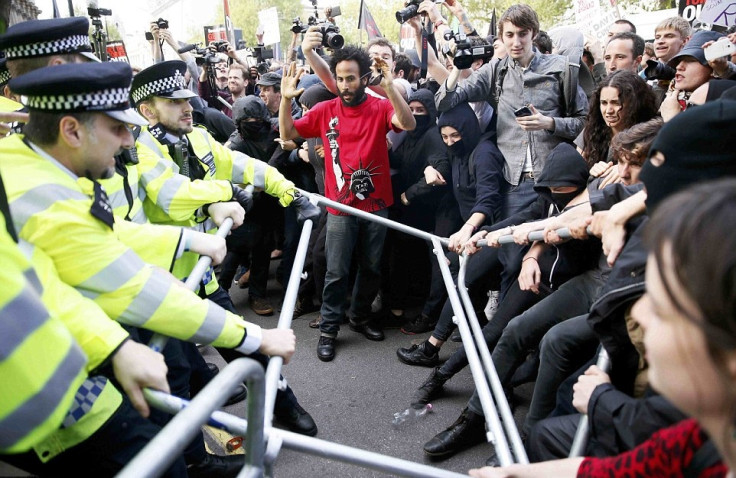 One of the protestors defaced a war monument daubing in red paint "F*** Tory Scum."
The Royal British Legion condemned the disgraceful act of vandalism on the 70th anniversary weekend of VE Day. A spokesman for The Royal British Legion said: "This senseless act could not have been more inappropriately timed. This weekend we commemorate those who fought and died for the freedom to have elections and the freedom to enjoy the lives we have today."
The Metropolitan Police confirmed that four people were arrested during the 'unplanned anti-austerity protest' under the 1986 Public Order Act while investigations into the vandalism are underway.