Anti-semitic incidences in the UK have risen by more than a third in the first six months of this year, before the current conflict in Gaza even began.
According to a report released by the Community Security Trust, a charity which records anti-semitism and provides security for the Jewish community, the number of recorded anti-semitic incidences rose by 36% between January and June.
The CST figures show that 304 anti-semitic incidences were reported in that period, a rise from 223 incidences in the corresponding period of 2013.
The figure does not include the further increase in reported incidences in July, triggered by anti-semitic reactions to the conflict between Gaza and Israel. A record 130 incidences were reported, making it the hightest monthly total since February 2009.
The CST said the sharp rise in incidents, which range from graffiti on homes to a gang attack by UK-based Polish extremists, had no clear cause but may be attributed to a real-terms increase in assaults, as well as improved reporting to police.
Mark Gardner, a spokesperson for the charity, told IBTimes UK that the spike in incidences in July was of particular concern.
"There is no clear explanation for the rise to 304 incidences, which may reflect both better reporting and a worsening of the problem," he said.
"There is no excuse for this wave of racist intimidation and violence and we call upon all good people to unequivocally condemn it."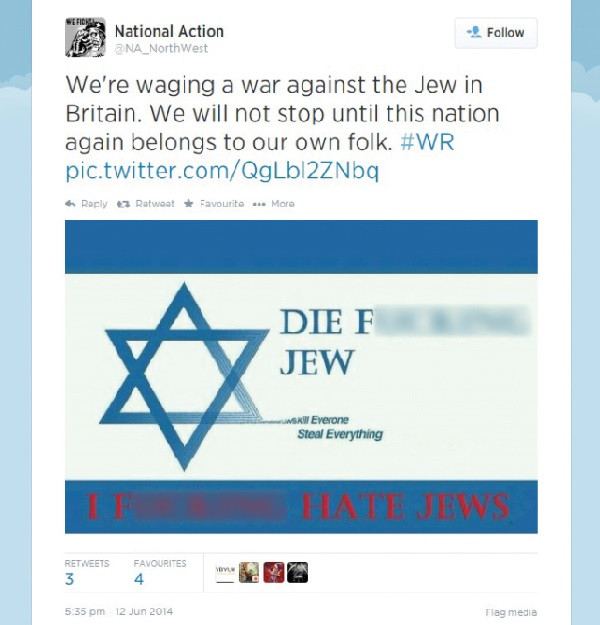 The overwhelming majority of incidences involved abusive behaviour, such as verbal abuse, graffiti or threats. Anti-semitic trolling on social media was reported in 54 cases.
There were 22 violent anti-semitic assaults, a fall of 32% from the 29 violent assaults recorded in the first half of last year, and the lowest total for the January-June period since 2001. None of the attacks were classified as "extreme violence", which would a threat to life or grevious bodily harm.
Of the 304 incidences, 27 involved damage and desecration of Jewish property. In June, 40 gravestones were pushed over or smashed in a Jewish cemetery in Blackley, Greater Manchester. One week earlier, anti-semitic graffiti and Swastikas were scrawled on tombs.
John Mann, chair of the All-Parliamentary Group Against Anti-Semitism, called upon politicians to ensure better community relations.
"This is troubling news and from the feedback we are receiving, it is likely that the volume of anti-Semitic incidences will increase significantly before the years end."
The figures coincide with data published in July which showed Britain's Muslim community is also increasingly becoming the target of hate crimes.
Tell MAMA, a national project which records and measures Islamophobic incidences in the UK, recoded 734 incidents over 10 months between 2013 and 2014. The reports stated Muslim women wearing traditional dress were most likely to be victimised, with a numbers of reports involving having lit cigarettes thrown at them and being spat at.
The assaults on the Muslim community rose by almost 400% after the murder of soldier Lee Rigby in May last year in south London.