Bonus payments in the UK were almost as high in 2014-2015 as they were before the crash in 2008, figures by the Office for National Statistics have shown.
The ONS found that bonuses in 2014-2015 were only 0.1% lower than they were in 2007-2008, when they hit a record level. In total, bonuses paid out in the financial year were up 2.7% to£42.4bn.
The ONS explained that between May 2014 and April 2015, average bonuses were up by 2.4% to £1,500 (€2,051, $2,345). Meanwhile, bonuses in the finance and insurance sector only experienced a jump of 0.76%.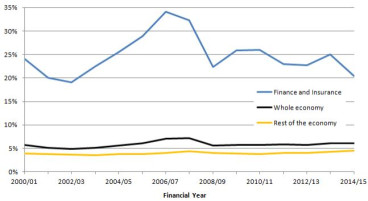 James Sproule, Chief Economist at the Institute of Directors said that the proportionately high performance-based bonuses in the finance sector that were the norm before the crash encouraged aggressive and sometimes irresponsible behaviour from workers in the industry.
He said: "In the financial and insurance industries, the fact that bonuses now make up a significantly smaller chunk of take-home pay suggests steps have been taken since the financial crisis to rein in excess. Under pressure from politicians, the public and regulators, banks now realise that the culture of unjustifiably high cash bonuses as a reward for short-term performance is over."
Although the rise in finance sector bonuses was more moderate, the absolute pay-out is still a lot higher. On average, finance workers received a £13,300 bonus, compared to the £1,500 economy-wide bonus paid out.
Mining and quarrying industry workers received £6,600, while staff in the communications sector were paid an average bonus of £4,300.
Although the financial industry, is reporting a slower growth in its bonus share, before the financial crash in 2008, the sector accounted for more than 30% of all bonuses, while a mere 20% of extra payments were paid to finance workers in 2014-2015.
Between April 2014 and March 2015, overall bonuses decreased by 0.2% compared to the same period the year before when an extra bonus was paid out. Payments in the financial industry declined by 5.8% in that period.
Sproule said that the IoD felt that bonuses across sectors were important for the liberal market. He wrote: "Bonuses are a fundamental feature of a flexible labour market and make up a key component of the remuneration mix. They allow businesses to reward staff for their achievements over a set period of time and are often directly linked to an individual's or the company's performance."