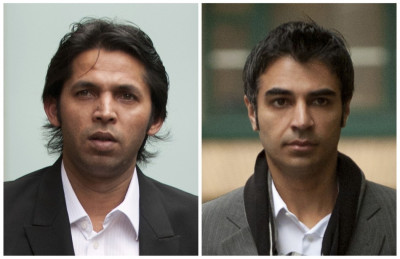 Former Pakistan Test cricket captain Salman Butt and fast bowler Mohammad Asif were found guilty Tuesday of conspiracy to cheat and of conspiring to accept corrupt payments by the Southwark Crown Court in London.
The court found that the Pakistani players had plotted to deliberately bowl no-balls during a test match against England, at Lord's last year. Another bowler, Mohammad Amir, confessed to the charges prior to the trial. All three players are facing the prospect of prison terms.
The prosecutors said the trio had conspired with British agent Mazher Majeed to bowl no-balls as part of a plot that revealed "rampant corruption."
Mazher Mahmood, the former investigative editor of News of the World, who broke the sensational story, told the court he approached Majeed pretending to be an Indian businessman. Majeed, 36, has also been charged with the same offences but was not standing trial.
This latest news comes as yet another blow to a sport still reeling from the match-fixing scandals stemming from South African cricketer Hansie Cronje's conviction in 2000. The reports now, however, seem unanimous that cheating will no longer be tolerated in the game of cricket.
The International Cricket Council -- the game's international governing body -- expressed similar sentiments after Tuesday's verdicts, while the England and Wales Cricket Board reiterated its policy of zero tolerance of corruption in sport, reported the BBC.