Britain's recovering economy has hit its pre-financial crisis peak.
According to the National Institute of Economic and Social Research (NIESR), the level of UK GDP at the end of May 2014 was 0.2% higher than its peak before the 2008 crisis.
This is because the UK economy grew by 0.9% in the three months to the end of May.
It is another sign that the economy is well and truly on the mend, with the Bank of England forecasting 3% GDP growth across the whole of 2014.
But there are still concerns about the recovery. So far it has been heavily reliant on household consumption and a housing market revival, both of which mean more consumer debt.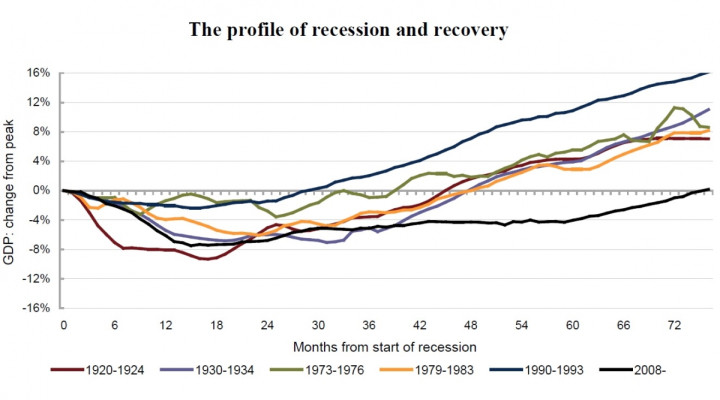 Chancellor George Osborne wants trade and business investment to play a stronger role in economic growth, but UK exports are sluggish.
Global demand is dampened by financial difficulties elsewhere, particularly in Europe, the UK's largest trading partner.
The Deloitte survey of chief financial officers shows an increased appetite for taking more risk onto the balance sheet of businesses, suggesting investment is about to pick up.
And the International Monetary Fund (IMF) said in its world economic outlook that the global economy is set to strengthen across 2014 and 2015, giving UK exporters hope.
Meanwhile, a stronger UK economy is leading the Bank of England to eye an interest rates hike.
The central bank's base rate is at 0.5%, an all-time low, to help keep credit cheap and banks lending to consumers and small firms.
As the economy recovers, monetary policymakers want to begin to lift interest rates to a more normal level and prevent any credit bubbles forming.
Markets expect the Bank of England will lift its base rate in 2015.