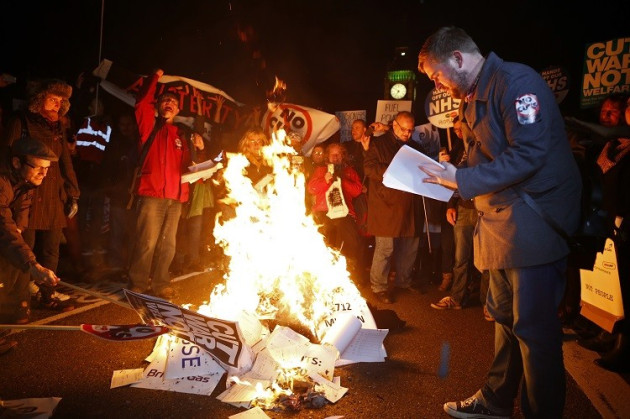 Heavy investment needed in the UK's utilities infrastructure means consumers' electricity, gas and water bills will keep soaring until at least 2030 according to an official report - and it is the poorest homes that will be hardest hit.
The National Audit Office (NAO) warned that government projections put the real terms rise in energy bills at 18% by 2030. There is no official forecast for water bills, but an industry estimate puts the bill increase at 28% over the same timeframe.
It is yet more bad news for British consumers who have seen energy bills rise far quicker than earnings, which have fallen sharply in real terms since the 2008 financial crisis. The industry defends bill rises by pointing to its wholesale and investment costs, but Energy Secretary Ed Davey told the 'Big Six' firms not to view consumers as "cash cows".
"High levels of expected investment in new infrastructure mean that energy and water bills may rise significantly," said the NAO report called Infrastructure Investment: The Impact on Consumer Bills.
"Consumers will pay for the infrastructure itself, along with the costs of maintaining and operating the infrastructure. Future bills will also be influenced by other factors, such as changes in world energy prices and initiatives to help consumers use less energy and water."
It concluded: "Affordability will depend on changes in incomes and the wider cost of living. Some of the new infrastructure might raise incomes by supporting economic growth. But it does not follow that consumers at all income levels will benefit."
In total, UK households spent 8% of their incomes on energy and water bills in 2011. However, those on the lowest incomes spent 15% of their household incomes on the same bills.
To meet legal obligations on renewables, the industry needs to increase its reliance on this energy source by 3.7 times by 2020. This will require significant investment in infrastructure and new technologies.
The UK Treasury has highlighted £176bn of energy infrastructure investment required to replace or upgrade old assets.
Energy UK, which represents the consumer-facing side of the industry, warned that the current angry debate surrounding bills - which has seen the 'Big Six' accused of hiking prices to support their profits and dividends to shareholders - may damage investment prospects.
"The UK needs major investment in energy over the next few years to modernise our power stations, investment in greener, more sustainable power and upgrade the wires and pipes," a spokeswoman for Energy UK previously told IBTimes UK.
"We all need to work together but the current public debate - where all we hear is claim and counter-claim - risks scaring vital investment away."