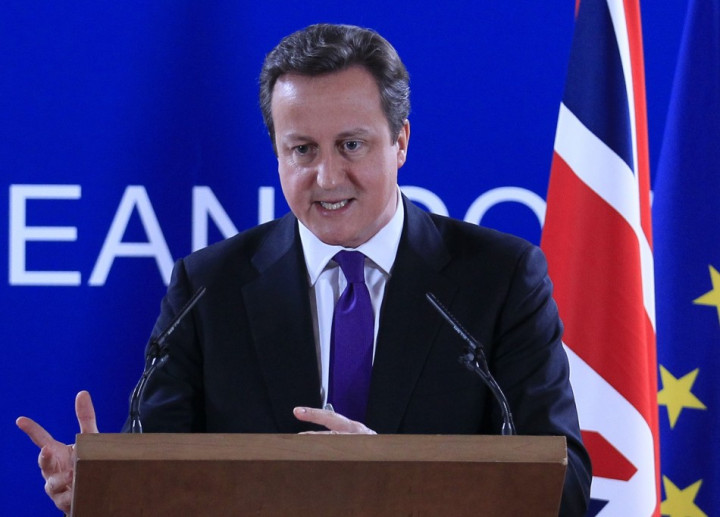 Almost two-thirds of business back Prime Minister David Cameron's proposal of Britain having a renegotiated membership of the European Union, according to a survey by the British Chambers of Commerce.
Cameron has promised an in/out referendum on Britain's membership of the EU if he is re-elected at the next general election, likely to be in 2015. There is a common perception among Britons that the EU is a costly, undemocratic, bloated bureaucracy that has eroded national sovereignty.
BCC research found that 64 percent of businesses support a renegotiated relationship with the EU, with a focus on bringing certain business regulation - such as health and safety and employment law - back under the control of Westminster, not Brussels.
Of the 4,387 businesses surveyed, only 18 percent wanted full withdrawal from the EU.
"These results say a lot about the UK business community's attitudes towards Britain's relationship with the European Union," said John Longworth, director general of the BCC, which represents 104,000 firms employing 5m people.
"Companies believe that renegotiation, rather than further integration or outright withdrawal, is most likely to deliver business and economic benefit to the UK."
The prime minister said he would like the UK to remain a part of the EU, which accounts for around half the country's trade, on fresh terms, but wants to have the question over membership conclusively answered.
Tories think promising a referendum could be the election clincher they need to secure a full majority, something they failed to do in May 2010 which left them in a coalition government with the Liberal Democrats.
Cameron recently toured Germany, France and Spain to drum up support from their leaders for his call for a UK renegotiation of its relationship with Europe as well as for broader reform to make the single market more competitive and cut its costs.
Business is keen to cut red tape from Europe to make running a firm cheaper and more efficient.
However, European leaders have accused Cameron of treating the EU like an "a la carte menu" and that he cannot simply pick and choose which parts he wants the UK to be involved in as he wishes.
"This is not cherry-picking, but to argue as some do that you can't have a flexible Europe is wrong," said Cameron ahead of his mini-EU tour.
"We can have a flexible Europe where we don't all have to do the same things in the same way."
Frances O'Grady, general secretary of the Trades Union Congress, has accused Cameron of a "sinister" attack on workers' rights in his efforts to repatriate employment law from Europe to Britain.
"The UK government is making the most vulnerable pay for a crisis they didn't cause, and is set on a wholesale scrapping of workers' rights," said O'Grady at a January speech in Madrid.
"But there's one set of workers' rights David Cameron can't touch. Those are the rights provided for by social Europe - paid holidays, health and safety, equal treatment for part-time workers and women, protection when a business is sold off, and a voice at work.
"The prime minister wants to 'repatriate' those rights, and not because he thinks he can improve them.
"David Cameron wants to make it easier for bad employers to undercut good ones, drive down wages, and make people who already work some of the longest hours in Europe work even longer. To do that, he needs agreement from the rest of Europe."
---
Follow @shanecroucher