The UK's Brexit Secretary David Davis had billed it as the "row of the summer", but the senior Conservative ended up making major concessions to the EU as the parties agreed on a timetable for the two-year-long divorce talks in Brussels on Monday 19 June.
Discussions around a free trade agreement between the UK and the EU, which Davis had previously demanded should run alongside the Brexit talks, were put on hold as the EU's chief negotiator Michel Barnier dictated the sequencing of the talks.
The UK government and EU officials will now discuss the residency rights of EU nationals in the UK and Britons on the continent, followed by a so called Brexit bill, which could see the UK pay €100bn to Brussels, and other other issues will be discussed further down the line.
Talks around Ireland's future relationship with Northern Ireland will be held separately. "In a first step, we will deal with the most pressing issues," Barnier said.
"We must lift the uncertainty caused by Brexit. We want to make sure that the withdrawal of the UK happens in an orderly manner.
"Then, in a second step, we will scope our future relationship. We also agreed on how we will structure our talks. Our aim is to have one week of negotiations every month. And use the time in between to work on proposals and exchange them.
"In the first phase, the negotiation rounds will be broken down into three groups: citizens' rights, the single financial settlement, and other separation issues. These groups will report back to their respective principals during each negotiating week."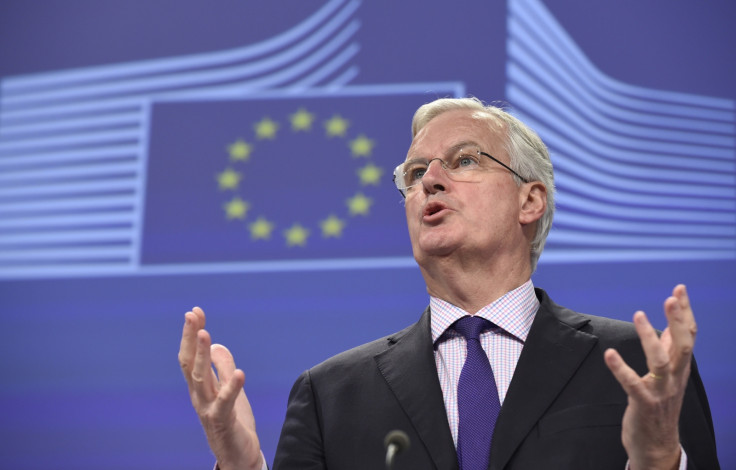 Davis described the timetable as a "promising start" to the Brexit process."As you heard Michel said, we had a brief exchange earlier about the distinction between being optimistic and being determined. And he gave you Monet's answer to that," he said.
"There is no doubt that the road ahead will at times be challenging, but as Winston Churchill once said: 'The pessimist sees difficulty in every opportunity. The optimist sees the opportunity in every difficulty.' And so bridging between Churchill and Monet, I am certainly a determined optimist."
Tim Farron, the outgoing leader of the Liberal Democrats, described Davis as a "joker".
"Davis said the row of the summer would be over the sequencing of Brexit talks, and one day in he has capitulated," he said.
"The man is a joker. Despite the government's posturing, the EU was clear today it has not made a single concession to David Davis. He has been utterly humiliated."
The latest opinion poll from Survation, of more than 1,000 people between 16 and 17 June, found that 57% of respondents opposed a second EU referendum, while 38% of people backed another plebiscite.