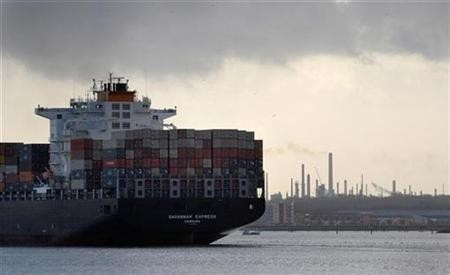 Britain's exports to the EU grew by 14 percent in January on the month before and its trade deficit to the continent narrowed, a positive set of data in what looks to be a finely balanced third quarter as the UK economy tries to keep its footing and avoid an unprecedented triple-dip recession.
HM Revenues & Customs data said UK exports to the EU increased by £1.5bn in value in January, to £12.4bn. Imports from the EU grew by 8.1 percent, £1.2bn, to £16.6bn.
It saw the UK-EU trade deficit slim by £300m, a 6.1 percent decrease on December.
"This comes after a sharp decrease for both imports and exports. Neither has returned to levels seen in November 2012 but they are typical of the levels seen in January in previous years," said the HM Revenues & Customs report.
Chancellor George Osborne has set the UK a target value of £1tn for its exports, which he hopes to reach by the end of the decade.
Slowing global growth and an unending economic crisis has hindered demand, increasing competition and making this ambition harder to achieve.
HSBC research said the UK will expand its exports outside of the EU in the coming years as the country is forced to look past the ailing continent in search of demand.
The bank predicts UK exports to Asia to grow by 9 percent annually until 2015, more than doubling the growth expected in EU trading of 4 percent.
Manufacturing sector exports are unhealthy with private industry data showing a decline in new orders for the fourteenth successive month in February.
Official industrial output figures showed a concerning 1.2 percent monthly drop in January, its steepest fall since June.
"Overall, a dire set of UK data," said RBS economist Ross Walker. "The slump in industrial production in January leaves a decline in (first quarter) GDP looking more likely than not - at any rate, some combination of upward revisions/rebounds in IP alongside a revival in services output growth will be required to avert a slide back into a technical 'triple-dip recession'."
---
Follow @shanecroucher