Prime minister David Cameron is under mounting pressure to take dramatic new steps to tackle unprecedented storms battering large parts of Britain destroying homes, farmlands and key transport links, or risk a damaging political backlash.
As the personal and economic costs of the weeks of flooding and gales mount by the day, with more gloomy forecasts, there have been demands for the army to be despatched to the worst-hit areas and for the prime minister to finally appoint a sole "minister for the weather".
Cameron has now realised this has become a full-blown crisis which is threatening to damage his own standing and, in a classic piece of political PR, attempted to show he had a grip on the issue by taking personal control of the so-called "Cobra" meetings handling the response.
But for those in the worst hit areas of South West Britain, it is all too little, too late and there have been calls for the military to be sent in to rescue the situation and for a minister to be given responsibility for oversight of the response and be a single focal point for residents and businesses.
There have already been serious concerns over the way Environment Secretary, and climate change sceptic, Owen Paterson has handled the crisis with suggestions he failed to get a grip early enough and then failed to get emergency measures, such as river dredging in place soon enough to have any real effect.
Now he has been signed-off work for an unspecified period after surgery for a detached retina and Communities Secretary Eric Pickles has been appointed as his stand-in.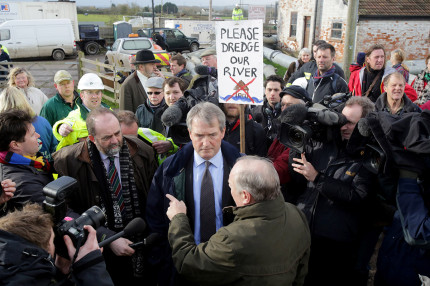 But Pickles has an entire department of his own to run and critics claim this is just another sign the prime minister has still not got a grip on the crisis.
In the Commons, Pickles faced claims from Labour's Maria Eagle that Cameron had taken over running Cobra because he was clearly "exasperated" by the "chaos and confusion" in the environment department. And she demanded to know which minister was in charge in Paterson's absence.
Pickles announced responsibility would now fall to Dan Rogerson, the junior minister for water, forestry, rural affairs and resource management. But that did nothing to calm fears there was no single point of focus for dealing with the crisis but looked like an attempt to spread responsibility as widely as possible.
Downing Street continues to insist that so many departments are involved, including environment, transport and defence, that the cross-government response through the Cobra meetings are the most effective way forward.
Meanwhile large swathes of Somerset remain under water, villages are still cut off, homes flooded, residents urged to evacuate some areas and the rail-link to Cornwall destroyed.
Pickles confirmed there would be an extra £130m over two years to do "whatever is necessary" to tackle the mounting problems.
While the main focus of political attention is focussed on helping the thousands of people affected by the crisis, the prime minister will be well aware of both the economic and political costs for the government.
Any suggestion that an earlier and more concentrated government response might have averted some of the worst consequences of what were unprecedented but accurately predicted storms, and that will come back to hit the government.
Distraught residents and businesses will also inevitably look to ministers to help them recover from the consequences of the devastation and that reaction needs to be clear and effective.
Meanwhile there remains huge questions over the way the government, and Paterson in particular, responded to the crisis which still has some time to run.