The Environment Agency has pulled staff out of flood flashpoint Wraysbury after they were abused by hostile residents.
Union GMB confirmed the move before tearing into communities secretary Eric Pickles for fanning the flames of residents' fiery tempers.
The union blames the MP for stoking tension in the Berkshire village, where EA workers have been working to alleviate damage caused by flooding.
Justin Bowden, GMB national officer for the EA, said, "This report of hostility from the residents on the Thames is a direct result of the irresponsible attack by Eric Pickles and others on the EA.
"His incitement has led to the very people on the frontline who are actually helping to alleviate the situation bearing the brunt of people's frustrations.
"For more than seven weeks since Christmas the Environment Agency's staff have been run ragged helping and supporting the victims of flooding. GMB members have been working double and triple shifts around the clock to protect and assist."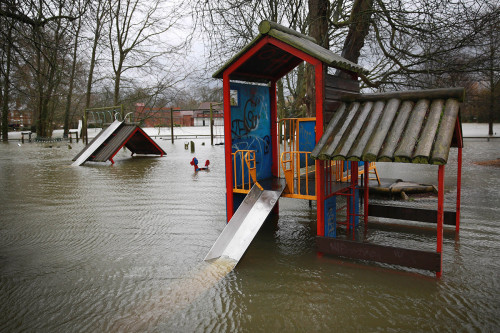 Bowden called on the government to reverse the "ludicrous" cut of 1,700 EA jobs, which he says has come in the face of a 27% real-term cut in funding.
The GMB believes Pickles offered a thinly-veiled attack on the EA during an interview on BBC's Andrew Marr programme when he said: "I am really sorry that we took the advice [by not dredging rivers in Somerset] ... we thought we were dealing with experts."
He then said he would not wear a "save Chris Smith" T-shirt if chairman of the EA Lord Smith decided to quit.
However, a department for communities and local government spokesman told IBTimes UK that Pickles had supported EA staff during television interviews on Sunday and had spoken in support of them in Parliament.