A High Court has ruled the UK government has not acted unlawfully by continuing to sell arms to Saudi Arabia following allegations the weapons have been used to target civilians in Yemen.
The decision, made after the court was able to view previously unseen secret documents, arrived after the Campaign Against Arms Trade (CAAT) group launched a legal challenge.
The group say the UK has licensed more than £3.3bn worth of arms sales to Saudi Arabia since it began bombing Yemen in March 2015 despite a "growing body of evidence" to suggest the air strikes have been used to target civilians.
Lawyers for CAAT argued this decision was against UK arms export policy, which clearly states that the government must deny such licences if there is a "clear risk" that the arms break international humanitarian law.
The group believe the air strikes are breaking such laws and are purposely targeting civilians, with bombing occurring at schools, mosques, medical facilities, weddings and other civilian gatherings.
Among the billions of pounds worth of arms sold to the Gulf state since the bombings began are helicopters, drones, bombs and missiles, grenades, armoured vehicles and tanks.
CAAT was calling for government to suspend all extant licences and stop issuing further arms export licences to Saudi Arabia for use in Yemen until it is clear whether the exports are compatible with UK and EU legislation.
Andrew Smith of CAAT said: "This is a very disappointing verdict, and we are pursuing an appeal. If this verdict is upheld then it will be seen as a green light for government to continue arming and supporting brutal dictatorships and human rights abusers like Saudi Arabia that have shown a blatant disregard for international humanitarian law.
"Every day we are hearing new and horrifying stories about the humanitarian crisis that has been inflicted on the people of Yemen. Thousands have been killed while vital and lifesaving infrastructure has been destroyed.
"This case has seen an increased scrutiny of the government's toxic relationship with Saudi Arabia. It is a relationship that more than ever needs to be examined and exposed. For decades the UK has been complicit in the oppression of Saudi people, and now it is complicit in the destruction of Yemen."
And estimated 10,000 – 13,000 people have been killed in the ongoing civil war in Yemen as part of the Saudi-led coalition's goal to reinstate exiled President Abd Rabbu Mansour Hadi. More than two million people have been displaced as a result of the attacks, with at least 80% of the remaining population requiring some sort of humanitarian aid, according to Human Rights Watch.
Anna Macdonald, Director of Control Arms, said: "This is a bewildering decision for the High Court to have reached, which effectively sanctions the slaughter of civilians. Thousands of innocent people have died in the Saudi-led air strikes over the past two years and it's shameful that the UK government is fighting so hard to be complicit in that.
"This decision amounts to allowing the government to sit as judge and jury over its own arms deals. Arms sold to Saudi Arabia are being used to commit atrocities in Yemen and regardless of this court decision, the moral verdict is clear; the government should suspend arms transfers immediately."
James Lynch, Head of Arms Control and Human Rights at Amnesty International, said: "This is a deeply disappointing outcome which gives a green light to the UK authorities – and potentially Saudi Arabia's other arms suppliers – to continue authorizing arms transfers to the Kingdom despite the clear risk they will be used to commit violations.
"Extensive and credible reports, including Amnesty International's own research on the ground in Yemen, have in our view demonstrated that such weapons have been used to commit serious violations, including war crimes, against civilians in Yemen and that – in light of the clear risk – authorizing further transfers would be counter to the UK's obligations under international law.
"The verdict is a deadly blow for Yemenis under attack from a Saudi Arabia-led coalition bolstered by UK-manufactured weapons."
Mark Goldring, Chief Executive of Oxfam GB said: "This sets back arms control 25 years and gives ministers free reign to sell arms to countries even where there is clear evidence they are breaching international humanitarian law. With little legal oversight on arms sales it is now imperative that Parliament holds the Government to account.
"So much evidence has been presented in this case of the devastating impact on Yemen from selling arms to Saudi Arabia. There is a clear moral case for the Government to suspend its sales. It must now put its diplomatic weight behind a search for peace."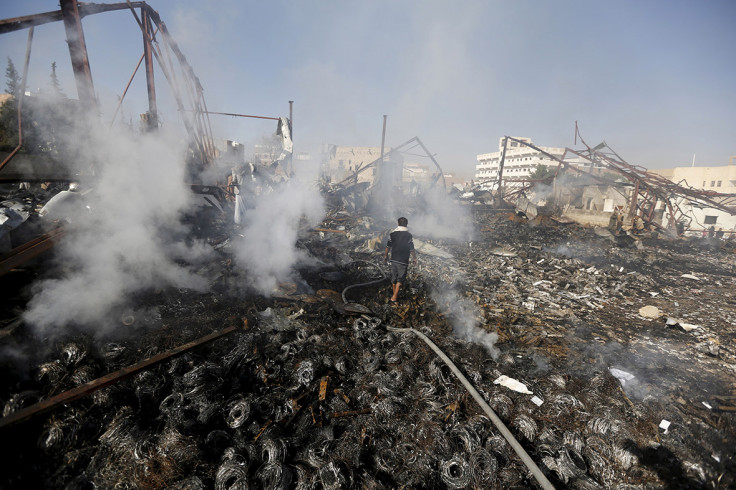 The decision arrived after the UK government was accused of attempting to bury a report into the funding of Islamic terrorism in the UK said to be highly critical of Saudi Arabia, which the Home Office has admitted may never be published.
The report was commissioned in 2015 by then prime minster David Cameron but has still not been completed more than 18 months later. The Guardian reported that Theresa May has not made a decision on whether to release the report, said to contain "very sensitive" information.
Labour MP Dan Jarvis said the report shed light on "very worrying" links between Saudi Arabia and the funding of extremism and called on the government to release its report.
In a statement to IBTimes UK, the Saudi embassy in London described the allegations in the report as "categorically false". A spokesperson added: Our long-standing relationship with the UK and work in countering such extremists has been successful. UK Prime Minister Theresa May, as well as the past Prime Ministers, have previously spoken of the strength of Britain's relationship with Saudi Arabia and how it has helped to keep people on the streets of Britain safe.
"We do not and will not condone the actions or ideology of violent extremism and we will not rest until these deviants and their organisations are destroyed."