Grocery sales in Britain defied persistent deflation and edged higher in the quarter to 11 September, boosted by growth in alcohol sales, figures released on Tuesday (20 September) showed. According to data released by Kantar Worldpanel, sales rose 0.3% year-on-year in the 12 weeks to 11 September, overcoming the ongoing 1.1% rate of deflation.
While overall growth was subdued, alcohol sales grew 8.5%, as Britons enjoyed a summer of sport, which culminated in a very successful Olympic and Paralympic Games for Team GB.
Sparkling wines including Prosecco and champagne led the way with growth of 36.0% as promotional events across a number of retailers successfully tapped into the nation's celebratory mood.
Tesco was among the retailers seizing on the feel-good factor, as alcohol sales grew faster than any other sector at the FTSE 100-listed retailer, which posted its best performance in two years after recording a 0.2% decline in sales from the corresponding period in 2015.
Waitrose's market share reached a record-high 5.3%, after sales at the company increased 3.8% year-on-year in the period, while the Co-op continued to outperform the market with sales growth of 3.1%, which brought its market share up to 6.6%.
Iceland's recent run of success continued as sales grew by 6.3% compared with a year ago, while sales at Asda and Sainsbury's fell by 5.4% and 1.4% respectively. Meanwhile, sales at Morrisons fell 2.3% reflecting its reduced store portfolio. However, the number of online customers at the grocer was up by 45% on last year.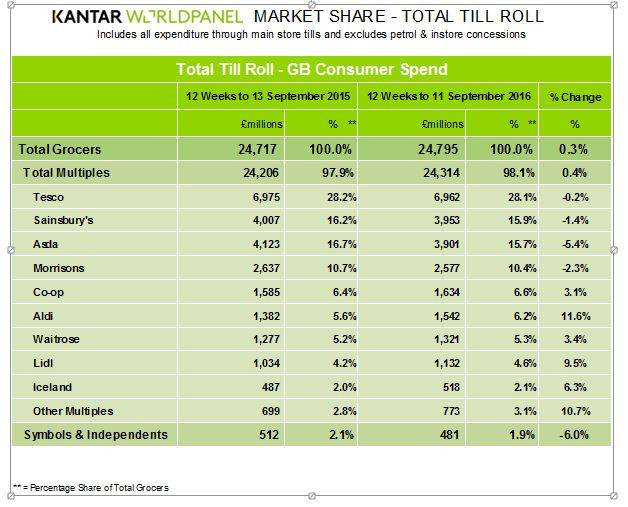 Discount retailers Lidl and Aldi recorded the largest increase in sales yet again, with the former recording a 9.5% year-on-year gain, which brought its market share to a record high 4.6%, while sales at the latter grew 11.6%.
"The discounters are helping drive the industry-wide growth in premium own-label lines, with marketing campaigns moving away from showcasing only price to a focus on quality – collectively, premium own label grew by 29.5% in the discounters this period," said Fraser McKevitt, head of retail and consumer insight at Kantar Worldpanel.
"Shoppers now spend an average of £19.24 when visiting the discount retailers and at a time of falling prices this increase of 4% is not to be sniffed at."