Just as the UK was gearing up for a week of heatwave conditions, the Met Office has issued a weather warning for thunderstorms across much of the country. Heavy rain, strong wind, large hail, and frequent lightning have been predicted by forecasters, with the risk of flash flooding likely to affect homes, businesses and transport networks.
The only part of the country that appears to be spared is the south-east, where temperatures will rise to 32C and sunny conditions will prevail. However, things look gloomier for Northern Ireland, which will see the first round of heavy rain hit on 19 July evening before it seeps into Scotland overnight and into 20 July.
A chief forecaster for the Met Office said: "Whilst most places will miss the worst, please be aware of the risk of flash flooding. Frequent lightning, large hail and strong winds could be additional hazards. All of this could lead to some flooding of homes, businesses and transport networks. Disruption to power is also possible."
Some places could see as much as 30mm of rain in one hour, with more than 50mm of rain in a few hours. On 20 July, Wales, northern England and the Midlands will also be at risk of heavy downpours, however, it is expected to ease up by the evening.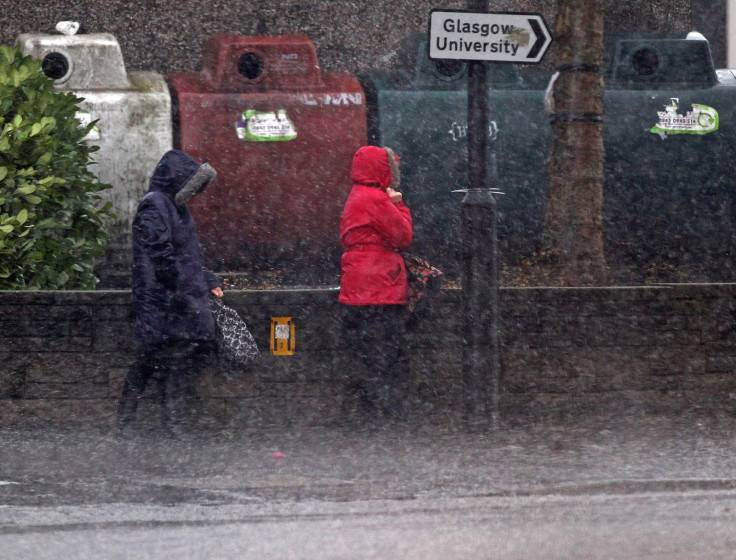 Meanwhile, London temperatures are set to soar higher than Rio, Ibiza and Hawaii, reaching a year-high of 32C. The heatwave conditions have forced the Met Office to issue warnings for "very high" level right of UV rays, only one short of the highest "extreme" level.
Furthermore, cooling measures have been implemented on a number of tube lines, including air conditioned trains on the Metropolitan, Circle, Hammersmith and City, and District lines. People are being urged to take caution when travelling on trains and buses, which could get overheated, particularly during rush hours.
St John Ambulance has issued tips on how to identify and deal with illnesses caused by the warm weather, with the most common conditions being cramping, fainting, sunburn and dehydration. Transport for London (TfL) will be handing out free bottles of water at train stations to remind commuters about staying dehydrating during the high temperatures.