Foreign nationals contribute more to Britain's economy than UK nationals, according to the latest set of government data, demonstrating the importance of immigration to the country's financial health.
Analysis of the most recent Office of National Statistic's (ONS) 2011 census data, reveal 71% of foreign nationals were 'economically active' in 2011, compared with 67% of UK nationals [Figure 1].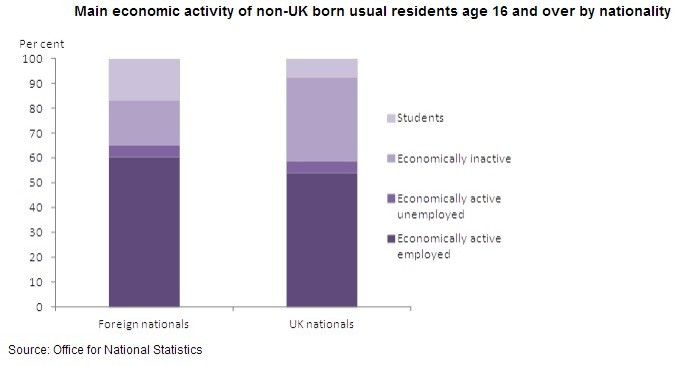 An economically active individual is someone who contributes to the labour market or to the goods and services industry. It does not necessarily mean that they are employed.
Analysis also shows that when 'full-time study' was removed from the study, foreign and UK nationals had a similar proportion rate of being 'economically active', with 65% and 64% respectively.
In terms of qualifications, the proportion of UK nationals with a 'degree level or above' qualification was lower than foreign nationals, at 30% and 38% respectively [Figure 2].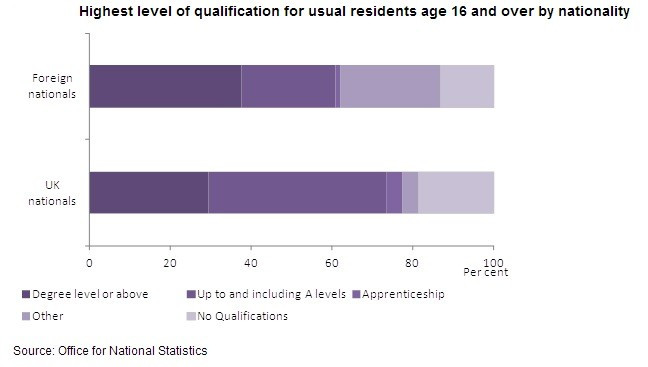 Rise of Immigration to the UK
Britain is the fastest growing population in Europe following a booming birth rate and an influx of immigrants in the country for 2012.
According to the ONS, Britain's total population rose by 0.7% between 2011 and 2012 to 63.7 million people.
The ONS said rocketing birth rates and a sharp increase in immigrants entering the country were the two main factors for the burgeoning population.
In 2012, the number of international migrants entering the UK soared by 39% after more than half a million immigrants entered the country in the last year.
In tandem, the numbers of emigrants leaving the country dropped.
However, the true number of people entering and leaving Britain could be wildly at odds with the figures used by the government, MPs have warned, saying the actual figure could be 35,000 higher than previously thought.
The official figures were "not fit for purpose" and could not accurately assess rates of immigration or emigration, said the influential Public Accounts Committee.
Critics Clash Over Foreign National Workers
In the latest row over foreign workers, shadow immigration minister Chris Bryant described Tesco and Next as "unscrupulous employers whose only interest seems to be finding labour as cheaply as possible".
He accused companies of operating policies that "seem to deliberately exclude British people".
However, according to a report by the Office for Budget Responsibility, Britain will need millions more working-age immigrants over the coming decades to alleviate the economic strains imposed by the country's ageing population.
OBR said that by allowing 140,000 immigrants to enter Britain each year, equivalent to six million people over 40 years, it would help increase the working population and improve public finances.
A complete ban on immigrants would drive UK borrowing up to 174% of GDP, the report found. But permitting entry to a steady influx of immigrants would reduce that figure to 99%.