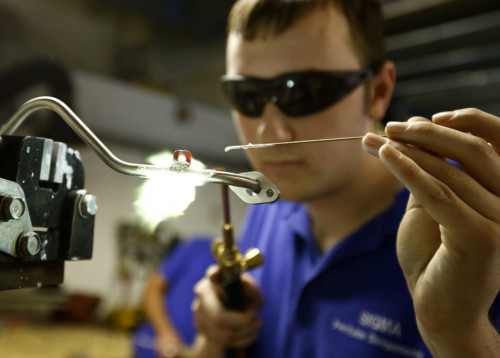 UK manufacturers' spiralling energy bills are forcing them to invest heavily in managing down these costs, according to a survey by industry group EEF and energy firm npower.
Almost all of the 192 firms surveyed [96%] said they were focused on energy management in order to reduce their bills.
Moreover, 88% highlighted the cost of electricity as a big concern for the future and 67% said the same of gas prices.
Since 2002, manufacturers' gas prices have rocketed by 122% and their electricity bills are up 94%.
Instead of putting more money into job creation and expanding output, manufacturers are ploughing cash into energy efficiency.
They are struggling to compete in a fierce global market where they jostle with rivals from countries such as China and the US, where energy costs are far lower.
And this problem is compounded by a lack of credit as the banks squeeze on business lending continues.
"Managing higher energy costs whilst maintaining international competitiveness is one of the biggest challenges facing manufacturers today," said Gareth Stace, head of climate & environment policy at EEF.
"The most advanced companies are systematically addressing inefficiencies in their buildings and processes to try and mitigate rising costs that come straight off the bottom line. This must remain a focus for all manufacturers.
"The prize of getting it right for companies is significant. This is not simply because of the direct benefit of reducing costs and improving our competitiveness, but because manufacturers will develop the technologies and services which will help other parts of the economy improve their efficiency."
Yet the EEF/npower report says that over the past twenty years manufacturers have also managed to increase their energy efficiency and reduce gas emissions by around 40% - all the while keeping output at the same level.
UK Business Secretary Vince Cable has already sounded the alarm over energy costs in manufacturing.
"Energy-intensive industry has got special problems arising from British energy costs," said Cable.
In a separate quarterly survey of credit conditions, EEF found that the portion of businesses with no need to borrow fell to 40%, its lowest level since the report was started in 2007. However, the cost of credit rose to a balance of +11%, the highest reading since the end of 2012.