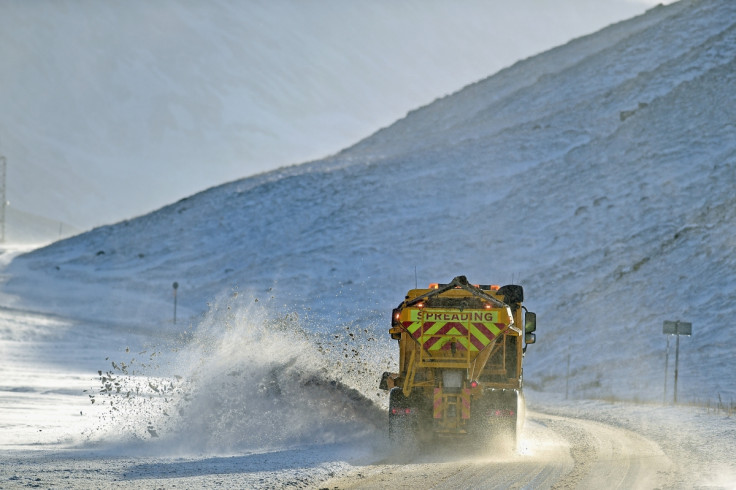 Snow has landed in parts of the country this morning as icy weather from the north brings temperatures plummeting to below those in St Petersburg, Moscow, or Chersky in Siberia. Britons awoke to snow this morning in areas as southerly as London and Essex – with the cold weather expected to last until tomorrow.
Southern areas of the UK will see highs of between 2C and 6C today, whilst in Scotland temperatures could dip to as low as -5C with bookies slashing the odds on the coldest ever November day in the UK from 12/1 into 8/1, according to William Hill. Ground frost will cover huge swathes of the country into Sunday with wind gusts hitting up tp 65mph in Devon, Cornwall, and west Wales.
Salt army ready
Also, north of the border, Transport Scotland has readied its largest-ever fleet of 205 gritters to battle plummeting temperatures brought by a 1,500-mile wide polar plume. Amongst their fleet are 50 eight-wheeled gritters carrying up to twice the grit of standard dispensers.
Around the country highway bosses having stockpiled 1.2m tonnes of salt in preparation of a cold winter, as the nation prepares for travel chaos caused by the frost, snow and ice. The Met Offices' Chief Operational Meteorologist Frank Saunders had advised that people should check travel advice before leaving home.
He said: "The Met Office is forecasting strong winds and some snow for this weekend, which means there is the likelihood of some difficult driving conditions and possible disruption to transport. With this in mind, if you have travel plans over the weekend, we'd advise that you keep an eye on the forecast and warnings for your area."
Keep an eye on the elderly
So far this November has been the second mildest on record. And the good news is the risk of further snowfall will lessen throughout the day and Monday will see warmer weather, but more rain. The Met Office have said that a cold snap like this is fairly typical for mid-late November. In recent years, the most notable snow event was in late November 2010 when there was lying snow across parts of northern and eastern Britain.
Councillor Peter Box, the Local Government Association's environment spokesman, said local councils will monitor weather reports and residents should keep an eye out for elderly neighbours. He said: "Council staff can't be everywhere. They rely on community-spirited residents to look out for each other. Elderly people may just need an extra blanket getting down from the loft or perhaps they didn't get out to collect their medicine this week."