UK weather: Snow warnings issued and possible showers in London as 'winter freeze' begins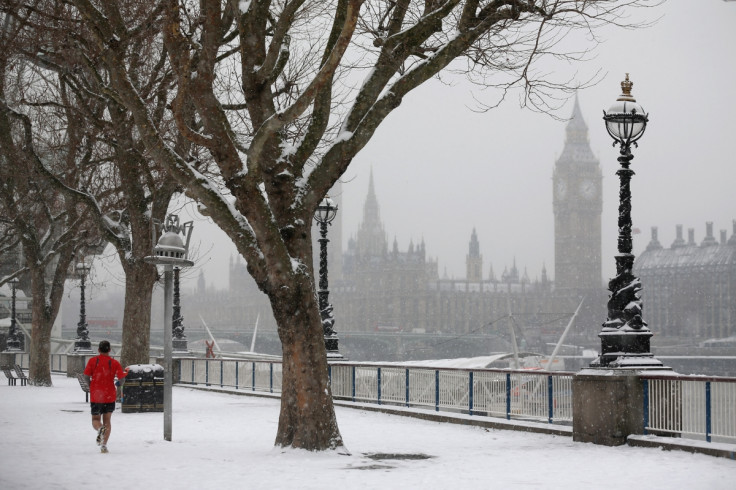 Yellow warnings for snow have been issued in Scotland and northern England for this weekend, as mild weather comes to an end and the "winter freeze" begins. While most of the heavy snow is expected in northern parts of the UK, forecasters have said that there is a possibility the south east of England could see some wintery showers as well.
The Met Office has said that conditions will get significantly colder by the end of the week, providing a drastic change from the above-average, mild temperatures of 14-15C in some areas in November. The cold weather is said to be the first glimpse of the "big freeze" that has been predicted for this winter.
A representative for the Weather Network said: "Wintery showers are possible in eastern parts of the UK as the chilly northerly winds skim the eastern coast."
Temperatures are expected to drop to as low as -2C in London, with highs of only 6C as the Met Office predicts sleet and snow showers for the south east over the weekend. However, forecasters have also warned that while there is a possibility of snowfall in the capital, it is unlikely to settle.
A representative for the Met Office told IBTimes UK: "It would not be surprising to see the odd flake of snow on Saturday morning anywhere in London, however, it is equally likely that this could turn out to be sleet or rain."
Mild weather could briefly return halfway through next week due to a period of rain coming off the Atlantic Ocean, but cooler nights and frost are expected to follow it. The Met Office has said that the period of having very mild air for a long time is over, with harsh winter conditions expected to set in.
The snow warnings come as people have been waiting for signs of the "coldest winter in 50 years" that was expected to hit Britain as early as October. In contrast, temperatures remained mild through October and 1 November was recorded as the warmest November day on record, with temperatures reaching above 22C in Wales.
Many Londoners have already begun posting their anticipation of the snow arrival on Twitter.
© Copyright IBTimes 2023. All rights reserved.