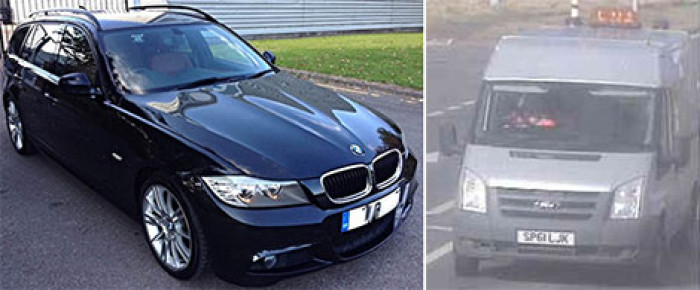 Police Scotland have released CCTV images of vehicles they suspect of being linked to the abduction, beating and shooting of a man, in what is being treated as attempted murder. E-fit images of three men believed to be responsible for the attack have also been released, as well as more details about the crime, which took place on Friday 13 March 2015.
The victim, a 45-year-old man, was abducted from his home in the Dodsworth area of Barnsley, South Yorkshire and driven 250 miles to East Kilbride. During the eight-hour ordeal he was beaten and shot in the kneecaps before being left by a residential area in the Lanarkshire town. His injuries were so severe, it is feared he may never walk unaided again.

Images of two vehicles have been published, including the victim's black BMW estate car which the susepcts fled with and a silver Ford Transit van, registration number: SP61 LJK. Police Scotland believe that at the time the image of the van was taken, the victim was in the back being subjected to a brutal and sustained assault.
Detective Chief Inspector Gary Boyd said: "This shooting was a shocking incident, which occurred in broad daylight, yards from a busy town, homes and a supermarket. This man was systematically assaulted, threatened and was in fear for his life. He has been left with life-changing injuries and may be unable to walk unaided again."
Boyd reassured locals that police believe the attack was targeted and not random, but said the attackers were dangerous and must be apprehended as soon as possible. "The people who carried out this abduction and shooting are merciless, and have absolutely no regard for public safety. They have access to firearms as evidenced by this incident and have no hesitation in carrying out extreme violence. They are dangerous individuals and must be caught."