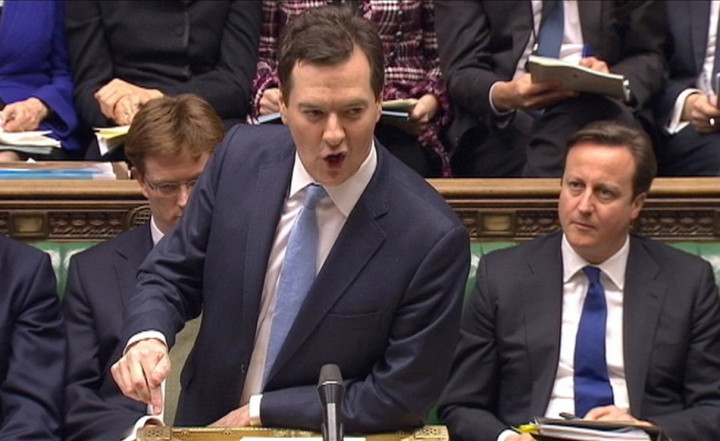 UK government borrowing tumbled by £9bn in February when compared with the same month a year before the Office for National Statistics has reported, beating analysts' expectations, just a day after Chancellor George Osborne had warned in his 2013 Budget speech that annual public debt will continue to spiral until 2017/18.
Public sector net borrowing, excluding the cost of bank bailouts during the financial crisis, was £2.8bn in February. The month's current budget deficit dropped to £1.1bn, a total of £7.1bn lower than in February 2012.
Net public sector debt was £1.16tn at the end of February 2013 - 73.5 percent of GDP. This is down slightly, 0.3 percent, on January.
Osborne told the House of Commons during his 2013 Budget speech that government borrowing will be higher than he previously thought, amid domestic economic stagnation fuelled by wider turmoil such as the eurozone crisis.
He will now miss his fiscal target of annual public debt falling as a portion of GDP by two years. It is forecast to continue rising until its peak of 85.6 percent in 2016/17, before dropping to 84.8 percent the following year.
Soaring debt played a role in the UK finances losing their AAA status as Moody's Investor Services, one the world's main three credit rating agencies.
Fitch Ratings, another of the top three, has said it is reviewing its AAA rating of the UK in light of Osborne's latest Budget.
Britain's economy is only expected to grow by 0.6 percent in 2013, according to the independent fiscal watchdog the Office for Budget Responsibility OBR, half of the forecast in Osborne's Autumn Statement delivered in December 2012.
A further round of austerity was announced by Osborne, with 1 percent wiped off of all unprotected Whitehall budgets over the next two years, amounting to around £3bn which will then be spent on infrastructure investment.
---
Follow @shanecroucher