The UK government needs to investigate current strike laws as "millions" of trade union members are set to stage a one-day-walk-out in a row over pay, according to the Institute of Directors.
The business body, speaking ahead of the industrial action by many unions over public sector pay, said it was a matter of "profound concern" that "such a small number" of trade unionists can bring about "such a disruptive strike".
"The time has surely come to look again at strike laws in this country," said Simon Walker, director general of the Institute of Directors.
"Nobody wants to undermine the valuable work of trade unions, but a political fringe among the leadership is at risk of doing just that."
He added: "To counter this growing disconnect between senior trade unionists and their membership, we urge the government to investigate enforcing a minimum turnout in strike ballots, or a requirement that a majority of members who receive a ballot paper vote in favour before a strike can go ahead.
"Industrial action, with all the disruption and difficulties it brings, should not be the plaything of a politicised minority within the trade union movement."
The comments come ahead of the industrial action, which will see, FBU, Unite, Unison, NUT, PCS, and GMB public sector members, walk-out on July 10.
Unite is seeking a £1 ($1.7, €1.2)-an-hour increase in pay for the local council workforce which has 400,000 employees earning below £15,000 a year and a million earning less than £21,000.
The trade union has around 70,000 members in local government carrying out such jobs as refuse collection, street cleaning, maintenance of council property, traffic enforcement, school support and care services, and grave digging.
The Local Government Association, which represents councils in England and Wales, said it was disappointing that Union members had decided to strike.
"Local government staff have worked wonders while councils have been tackling the biggest funding cuts in living memory and we have no doubt that many will still be at work on the day of strike action," a LGA spokesperson said.
"The pay offer we have made would increase the pay of most employees by one per cent while the lowest paid would receive an increase of more than four per cent. This is the fairest possible deal for our employees given the limits of what we can afford.
"This strike will not change the pay offer we have made, but it will mean those who take part lose a day's pay."
Strike law reform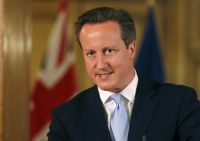 The Prime Minister David Cameron firmed up his pledge to introduce a minimum threshold on union ballots for strike action at Prime Minister's Questions on 9 July.
The Conservative Party leader said he will have a manifesto pledge, which could include a time limit on the validity of votes, on the issue.
Cameron referred to a National Union of Teachers strike ballot to explain his argument to MPs in the House of Commons.
"The NUT strike ballot took place in 2012, it's based on a 27% turnout," he said.
"How can it possibly be right for our children's education to be disrupted by trade unions acting in that way? It is time to legislate and it will be in the Conservative manifesto."