The largest push to explore for offshore oil and gas deposits on the UK's continental shelf in 50 years wrapped up on 27 July as 41 new permits got the green light.
The permits add to 134 that were awarded late in 2014. The new licenses give the likes of BP, Shell and Nexen rights to drill new wells and use advanced seismic imaging technologies to search for untapped resources. It is part of a UK government effort to get its offshore oil industry out of the doldrums.
Most of the new permits are concentrated in the North Sea but a pocket have also opened up between the coast of Wales and Ireland for exploration by Italian multinational oil and gas firm ENI.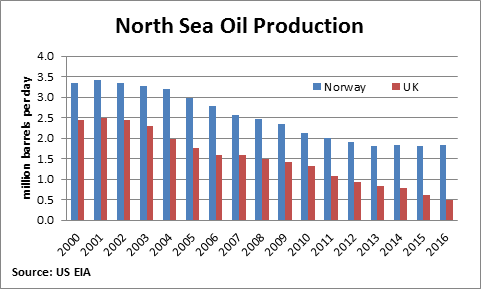 "The UK Continental Shelf remains a world-class hydrocarbon province where significant resources and economic value remain to be realised," said Andy Samuel, chief executive of the Oil and Gas Authority, an arm's-length branch of the UK's Department of Energy & Climate Change.
"Licences are however just a start and industry, government and the OGA now need to work together to revitalise exploration activity across the basin and convert licences into successful exploration wells".
The UK's oil and gas production in the North Sea has been in rapid decline for the past 15 years and the move is seen as an effort to revitalise the industry in the UK.
Andrea Leadsom, the UK's energy minister, said: "We are backing our oil and gas industry which supports hundreds of thousands of jobs across the UK. The 28th offshore licensing round comes after the government announced a major package of support in March to encourage £4bn of additional investment in the North Sea which will prolong the life of this vital industry."