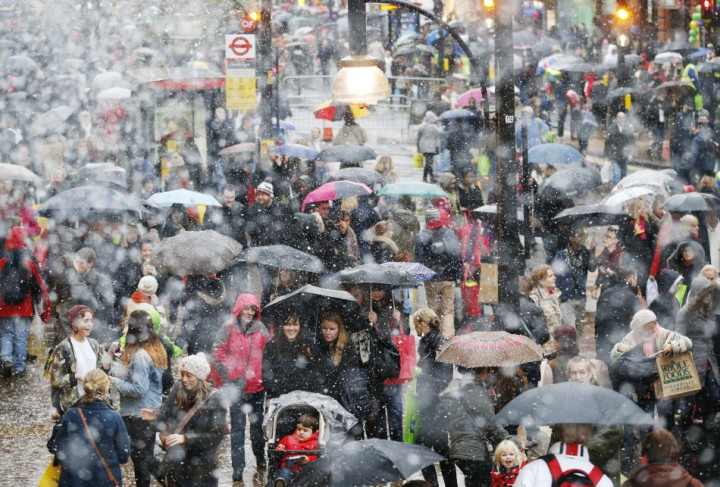 UK retail sales volume tumbled by 0.8 percent on the month in March, excluding fuel, as wintry weather and heavy snowfall sent a shiver though the high street.
Ailing retailers have struggled to cope with weak consumer demand as household incomes are squeezed ever tighter by falling real wages and a rising cost of living.
A strong comparative period in February, when retail sales lifted 2.1 percent on the month before, also weighed on the headline number.
"March 2013 was the second coldest on record and this appears to have had a negative effect on sales in the non-food sector," said the Office for National Statistics (ONS) in its retail sales index for the month.
"Feedback from department stores, clothing stores and household goods stores suggested that sales were dampened by the weather as they prepared their stores for the spring season."
On the same month a year before, the ONS said retail sales volumes excluding fuel lifted by 0.4 percent.
Wage data from the ONS showed that in the three months to February pay rose by just 1 percent, the lowest rate of growth since records began in 2001. Price inflation stood at 2.8 percent in February as it continues to outpace the rise in incomes.
"The results are disappointing, but unsurprising. The prolonged cold weather has certainly taken its toll on the UK high street and has further discouraged consumer spending," said Peter Saville, partner at advisory and restructuring firm Zolfo Cooper.
"We are now well into 2013 and many retailers, who have invested heavily in their online offerings and store experience, will be hoping their efforts will soon pay off. A rise in consumer confidence would be welcomed by retailers keen to turn around this stagnant trend."
Average weekly spend online in March was £601m, said the ONS, an increase of 20.5 percent on a year before.
Figures from IMRG Capgemini's e-retail sales index suggested people stayed at home to shop in wintry March rather than brave the cold on Britain's high streets. The index reported online retail sales growing 16 percent in the month.
Is Britain's High Street Broken? [VIDEO INVESTIGATION]