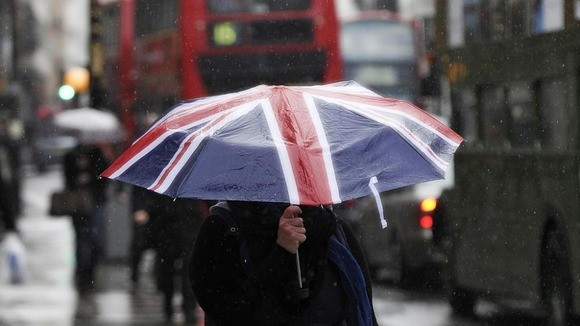 Britain's retailers desperately want to be flooded with consumers, but instead the high street is empty and soaked from the torrential down-pouring of rain that has marked this typically British of summers.
The retail market has suffered from the dampened consumer demand as the glum economic climate weighs heavily on their confidence, amid unresolved global financial crisis, the double-dip UK recession, a high cost of living, and job worries with unemployment at around its 17-year high.
"The prolonged wet weather we have had through the summer has effectively suffocated demand for an awful lot of stock many retailers have in store, whether that is summer clothing, summer shoes, barbecue equipment or gardening gear," Sarah Cordey, spokeswoman for industry representatives the British Retail Consortium (BRC), told IBTimes UK.
"People are not that inclined to spend on that sort of stuff at the moment because they are not seeing any prospect of spending a great deal of time outdoors."
Record rainfall, flooding, high winds, and low temperatures have blighted Blighty.
When times were good the country might have shaken the rain off their brollies and thought nothing of it, but we are in recession and paddling furiously against the tide to get back to safe financial waters.
This double-dip recession, the second contraction since the financial crisis broke out in 2008, has hit the retail market harder than most.
Sticky inflation and low earnings growth has eroded household disposable income. Everyone has the clamps closed on their purses.
Unemployment is high and predicted to reach three million out of work in 2013.
The figure could be worse if there is an economic catastrophe in the eurozone, Britain's biggest trading partner which is mired in financial crisis, as the knock on effect could put firms and banks out of business.
All of these factors weigh heavily on consumer confidence, ensuring it is kept depressed and that retailers struggle to shift their stock.
Now it is not just the global economy casting a dark cloud over the retail sector. There is a real one.
"Decisions on stock and purchasing have to be made a fair bit in advance. It is hard for retailers to respond to unseasonal weather of the sort we have had recently," Cordey said.
"That has resulted in even more promotional and discounting activity as retailers try to attract what little spending there is through their doors rather than see people go to their rivals."
Heavy discounting was cited by the Office for National Statistics (ONS) as the reason for a sharp drop in June inflation.
Consumer price inflation slowed to 2.4 percent in June, down from May's 2.8 percent, "with reports of the summer sales starting earlier than last year," said the ONS.
"Overwhelmingly they will be wanting to get that stock out of the shops," Cordey said.
"Retailers have quite tight margins, it's difficult for any retailer to have a lot of money tied up in stock and just say 'never mind, I'll stick this in the stock room for next year'.
"They don't have the space for that and they don't have the financial resources to allow them to do that."
Ernst & Young, the accountancy firm, forecast that there will be a consumer-led return to growth in the second half of the year, with falling inflation leading to a recovery in demand on the high street.
"Inflation is now coming back to heel, helped by the chancellor's decision to postpone the increase in fuel duty, falling energy and commodity prices, plus tax changes dropping out of the calculation," Peter Spencer, chief economic advisor for the Ernst & Young ITEM Club report, said.
"The boost to household finances and the subsequent pick-up in spending should be enough to push the UK back into positive territory this year, but don't expect a consumer-led recovery further out."
Recent bad weather may aggravate this path to growth in the latter two quarters.
Online shopping and an Indian summer for the UK
Bad weather meaning bad high street trading resulting in bad retail sales figures isn't the be all and end all of the story, however.
Online shopping has steadily grown over the past few years, with almost every shop having a web outlet through which consumers can buy their goods.
Research from the BRC shows that in the second quarter of the year retail searches online through Google grew by 9 percent overall.
Searches from smartphone and tablet devices grew by a staggering 113 percent year-on-year.
Consumers may opt to shop until they drop onto the couch in the warm and dry environment of their own homes.
Matt Piner, lead consultant at retail analysts Conlumino, told IBTimes UK that while sales of traditional summer products "are in the doldrums compared to last year" they appear to be shifting to non-sun reliant categories.
"For example we have seen tiling, an indoor activity, and DIY performing better and many clothing categories still shifting volumes once retailers have begun discounting," he said.
"Similarly, although high streets and uncovered out of town shopping centres may have missed out due to the rain, online retailers and malls have tended to do better.
"Generally, UK consumer spending has remained weak - but the fact is that this is much more to do with low confidence and an ongoing squeeze on peoples' disposable income than it is a result of the weather."
Cordey offered some hopeful optimism as a shining break in the clouds for retailers.
"It isn't too late yet. There have been some rumours of an imminent Indian summer. We are not into August by a long way," she said.
"What we have seen in recent months is where there are occasional periods of sunny days, consumer activity picks up massively.
"Consumer enthusiasm for summer goods is there, it is just as soon as the sun hangs around for a few days.
"Plenty of people will be jetting off to sunny places. They'll still need bikinis, sun cream, and that stuff, so there is definitely still some demand out there for summer goods."