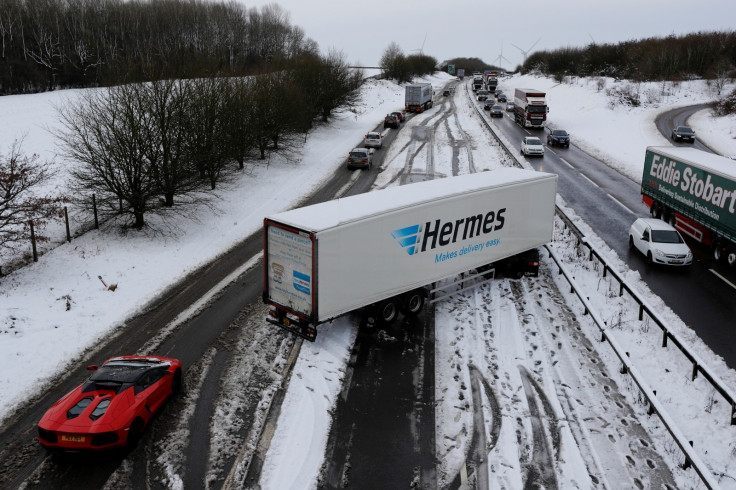 Overnight snowstorms across the UK have led to traffic accidents and left thousands of homes without power.
A lorry crash has blocked all three lanes of the M1 southbound at junction 19, as police warn of hazardous road conditions as up to 7cm of snow fell across parts of Britain.
Ice warnings for northern Scotland, Northern Ireland and north-east England and snow alerts for Wales and parts of England, have been issued by the Met Office.
It said: "Icy patches are expected tonight and into Wednesday morning. Icy patches are expected to develop on untreated surfaces, pavements and cycle paths and where showers wash off treatment. Some injuries from slips and falls on icy surfaces may occur."
Meanwhile, around 24,000 properties around the UK are without power.
Western Power Distribution said 13,899 homes are without electricity in the East Midlands and West Midlands, leaving homes hit in Worcester, Gloucester and Coventry.
SSE, which serves customers in Scotland, also has around 10,000 homes without power.
The energy firms said the power cuts are snow-related, and extra staff have been called in to reconnect properties.
Birmingham Airport has warned passengers the snow is likely to impact flights. Luton Airport has advised passengers to check in with their airline regarding the status of their flight.
The snow has caused widespread disruption across Britain's roads leading to traffic-jams stretching back several miles, as motorists return from their Christmas breaks.
A truck has jack-knifed on the M5 at junction 11a, and police said there are "long delays" on the A34 between the M4 and A4185 in Berkshire due to the weather conditions.
Around 14 flood warnings and 96 flood alerts issued by the Environment Agency, mainly in the South West and central England.