UK school teachers are complaining that certain smartwatches advertised on Amazon come with functions specifically targeted at helping students to cheat at exams. Deputy head teachers in several secondary schools say that the hidden market for these smartwatches is booming.
The modern-day cheat devices offer a great temptation to stressed-out students studying for important examinations, such as the GCSEs, A Levels or International Baccalaureate, according to BBC News.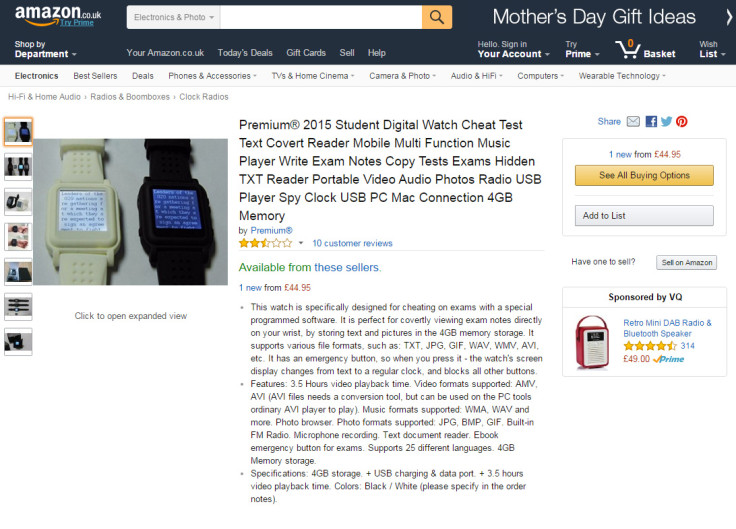 The teachers want more academic institutions to be aware of the problem and seek to ban smartwatches from exams and tests, and they also want exam boards to challenge companies that sell these devices, particularly since the smartwatches can now be obtained on Amazon, where they are described as giving students the ability to store and quickly view large sections of text and pictures.
In an exam, the student can surreptitiously look at the screen of the watch on their wrists, and if an examiner walks past, pressing an "emergency button" on the side of the watch will remove the incriminating text and replace it with a digital clock face.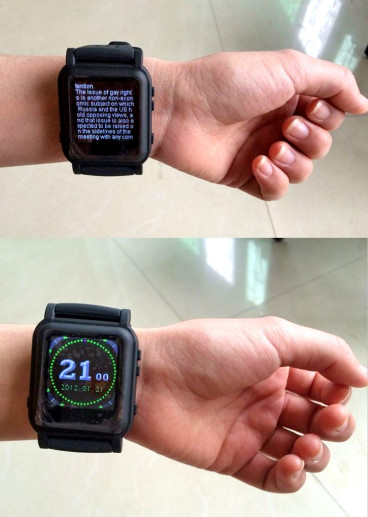 When IBTimes UK had a look on Amazon on 4 March, we found at least five different offbrand smartwatch models designed specifically to help students cheat still available on Amazon UK and Amazon US, as well as one model on eBay, with the description of the watch's abilities listed in the title as clear as day, such as: "Premium® 2015 Student Digital Watch Cheat Test Text Covert Reader Mobile Multi Function Music Player Write Exam Notes Copy Tests Exams Hidden TXT Reader Portable Video Audio Photos Radio USB Player Spy Clock USB PC Mac Connection 4GB Memory."
According to the description, the smartwatch supports a variety of file formats, including Notepad .txt files, JPG and GIF image files, as well as AVI, WMV and WAV video and audio files. The watch can also be programmed in 27 different languages, including most European languages, both Simplified and Traditional Chinese, Japanese, Hebrew and Arabic.
"This watch is specifically designed for cheating on exams with a special programmed software. It is perfect for covertly viewing exam notes directly on your wrist, by storing text and pictures in the 4GB memory storage," the seller writes on the listing.
The watch also includes some functions that indicate it could be used for covert spying investigations as it has a built-in microphone for recording audio. As almost everything is made in China, it is likely that these cheap offbrand smartwatches originate from there as well, although at least one seller on Amazon and eBay is shipping the products from the US.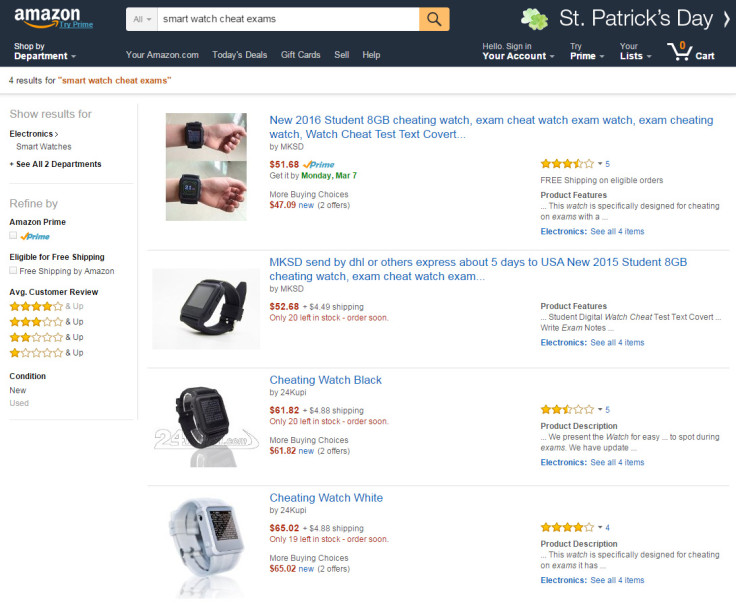 But perhaps schools around the world are catching up to the latest in technology – mobile phones of any sort, from 1G up to smartphones have been banned from examination halls around the world for at least 15 years, and now many institutions are also banning smartwatches and other digital wrist-worn devices, like fitness bands, unless they are traditional analogue watches.