This was the year when wearables finally took off, becoming much more attractive, and entered the mainstream. Okay, most might only have knocked on the door of mainstream, but just look at the progress they have made in a single year - comparing the original Android Wear watches to the latest from Apple, Huawei and Samsung makes the current crop look truly impressive.
We have to admit, when the Apple Watch arrived in April we thought the California company would have the smartwatch category to itself for a very long time - just as the iPad did with tablets. But thankfully, some serious competition emerged at the end of the year from Huawei and Samsung. If all three get an update in 2016, we should be in for an exciting year.
1. Apple Watch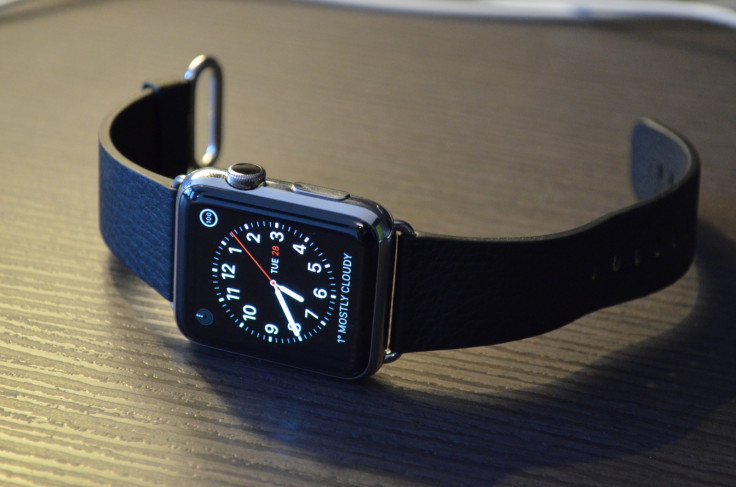 Yes, yes. We know. This is hardly a surprise, is it? But honestly, the fight between first, second and third was a lot closer than some bystanders might have realised. The Apple Watch came out on top because it is the most complete option, and it earns that claim on its first attempt. It is still far from perfect - indeed, the smartwatch concept generally is still a difficult one to sell - but the design, build quality and software are all a step above its rivals.
Let's just ignore the £13,500 gold one...
Read the IBTimes UK review here
2. Samsung Gear S2
After several failed attempts at making the perfect smartwatch, Samsung fired its closest shot yet this autumn. The Gear S2 stops trying to look like a computer on your wrist, and actually starts by being a good (and attractive) watch. Then it uses software which is controlled by an ingenious rotating dial, and despite running Tizen (not Android Wear) it works with any recent Android phone.
We are yet to spend much time with the better-looking Classic version, but having used the regular, sports-focused Gear S2, we are in no doubt that this is a worthy rival to the Apple Watch Sport.
Read the IBTimes UK review here
3. Motorola Moto 360 second generation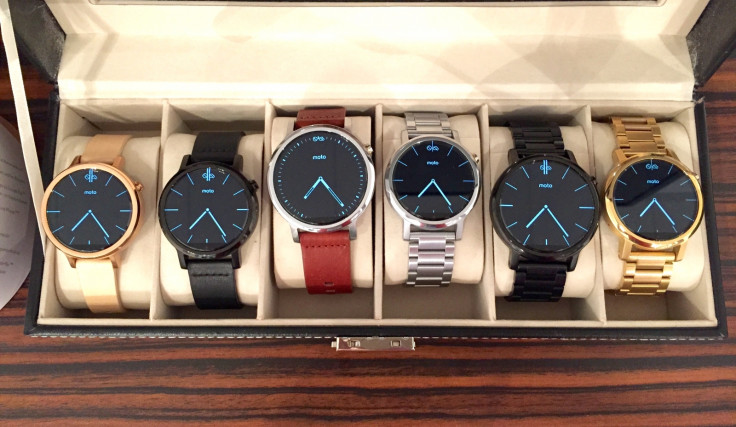 Another strong contender, the second-generation Moto 360 by Motorola is a great-looking smartwatch which, like the Huawei, runs Android Wear. As such, it offers all of the same features, but in a body which comes in two sizes, two styles and with a range of different straps. Like Apple, Motorola understands that one watch definitely does not fit all, in terms of size and design, so the new Moto 360 scores highly in that regard.
Read the IBTimes UK review here
4. Huawei Watch

The last to the party, but without doubt one of the best-looking, the Huawei Watch surprised us all in 2015. What began life looking like a rushed 'us too' moment back at Mobile World Congress in February, became a designed smartwatch launched at a London cocktail bar in front of as many fashion journalists as technology writers. It looks the business, is sold in a classy and traditional watch box, and has an excellent sense of build quality.
These aspects are all brilliantly executed, but now, as with the Moto 360, Google needs to put more work into Android Wear, as underneath the gorgeous digital faces, the Huawei Watch works exactly like its cheaper rivals.
Read the IBTimes UK review here
5. Withings Activité Pop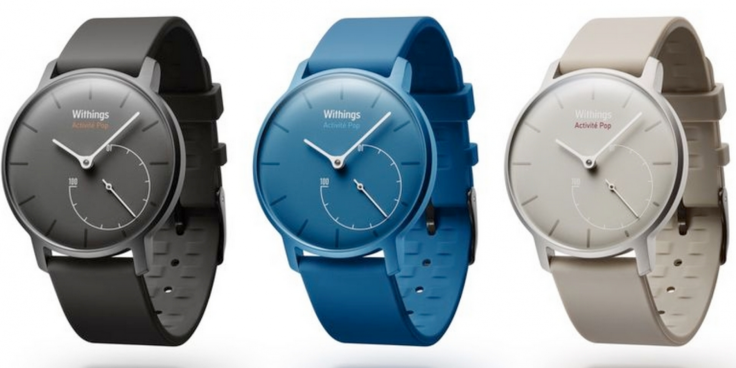 Launched at the very start of 2015, the Withings Activité Pop is a £120 fitness tracker which looks and feels like a regular watch. It has an attractive face with traditional hands, but a second dial which shows the percentage of your daily activity goal you have completed.
Data collected by analysing your movement is beamed to the free Withings smartphone app over Bluetooth, providing breakdowns of your walking, running, cycling and swimming. It might not have the bells and whistles of the others in this category, but it proves beyond doubt that smartwatches can be simple and attractive, as well as smart - and the three-month battery life is a huge bonus, too.
Read the IBTimes UK review here