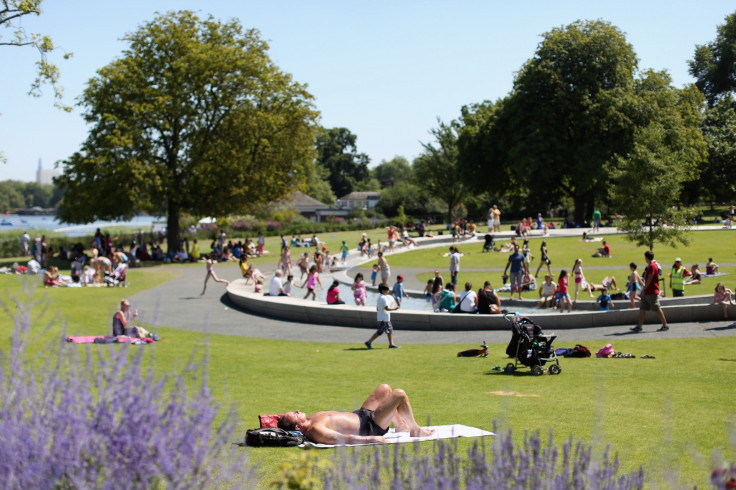 The UK is bracing itself for a heatwave, between 18 and 20 July, with temperatures soaring as high as 32C in southern parts of the country. Northern parts of the UK will also see a rapid rise in temperatures between 25-28C and temperatures are expected to remain above average for the rest of the week.
The high temperatures have forced the Met Office to issue warnings for 'very high' level eight of UV rays, only one short of the highest 'extreme' level. Experts have warned that high levels of UV rays could cause harm to the eyes in the short term and lead to cataract development in the long term, which is the leading cause of blindness in the world.
A spokesperson for the Met Office said: "The aim of the index is to warn people of increased risk and encourage them to change their behaviour in order to protect themselves against the risks of skin cancer and skin damage."
Meanwhile, people are being urged take caution when travelling on the trains and buses, which could get overheated, particularly during rush hours. Transport for London (TfL) has teamed up with Danoe Waters UK and Ireland Ltd to hand out free bottles of water to commuters travelling on the underground in the capital.
Cooling measures have also been implemented on a number of tube lines, including air conditioned trains on the Metropolitan, Circle, Hammersmith and City, and District lines. Stations have been upgraded with improved ventilation and portable fans have been installed in ticket areas.
Mark Evers, Director of Customer Experience for London Underground, said: "We want to encourage customers to carry water when they travel during the summer, which can help prevent people being taken ill on trains and reduce delays. Improv[ed] ventilation systems at our stations and new air conditioned trains... will serve 40% of the underground network by the end of this year."
On 17 July, Britain saw the hottest temperatures of the year so far with record highs of 27.6C in England. The previous record for 2016 had been set at 27.4C on 6 June, however, this will be taken over further by midweek as temperatures soar into the early 30s.