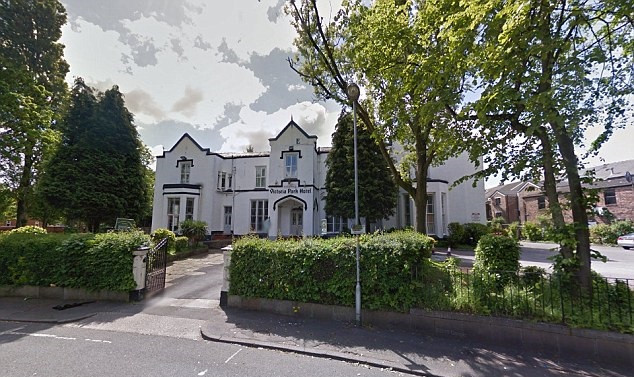 Three Somali men have been jailed for a total of 30 years for the gang-rape of 16-year-old girl in Manchester. Muhyadeen Osman, Bilal Ahmed and Mowled Yussuf, all now aged 20, attacked the girl in the bathroom of the Victoria Park Hotel in Manchester.
The group, who were 17 at the time of the attack in 2013, had spent the previous night in the hotel with several men as part of their Eid celebrations. One of their friends, who had met the victim on BlackBerry Messenger, brought her to the hotel saying she should 'meet his boys.'
The girl was on her summer holidays between school and beginning her A-levels when she began talking to a friend of the gang Ibrahim Jama on BlackBerry Messenger. They exchanged messages and agreed to meet - but as Jama met her at a bus stop shortly before 11am, he soon convinced her to perform a sex act on him in an alleyway.
Prosecuting, Henry Blackshaw said: "He then made reference to 'his boys' that were at the Victoria Park hotel, so she accompanied him. Once in the hotel she was then involved in what was talked about as a game of going to hotel rooms with the group and hiding away from the porter."
The teenagers moved from room to room in the hotel, intending to gain access to a room that was unlocked. CCTV captured the group and the girl disappearing into one hotel room for around 30 minutes while the attacks took place.
The girl repeatedly told the men she didn't want to have intercourse with them, however, Yussuf forced her to perform a sex act on him in the bathroom. Ahmed then forced her to perform a sex act on him before he raped her. Osman who had initially been 'hanging around' outside the door, moved her to the bed and raped her.
After carrying out the horrifying attack, the gang then fled, leaving the victim alone. She later realized they had stolen her mobile phone and cash from her handbag. The victim, who is now a university student, initially only reported the theft. A day later she told police the extent of her ordeal. DNA matching the offenders was recovered from the scene and she later picked the men out in identity parades.
Following a trial at Manchester Crown Court Yussuf was convicted of rape, oral rape and assault by penetration and was jailed for ten years. Ahmed, who was convicted of oral rape, was sentenced to nine years whilst Osman was jailed for 12 years after being convicted of an unrelated robbery in which he mugged a man on the street, stealing his rings and mobile phone. Jama was cleared of conspiracy to commit rape.
Representing Osman, Michael Goldwater said: "What these defendants did wrong is allowing themselves to believe this young lady was willing to perform virtually any sex act on all of them, and failing to make an enquiry about her willingness or indeed to care very much one way or the other. These were young, immature men who got carried away."
Judge David Hernandez said it was clear that the victim had not consented to sex. "This was a large group of young men in a hotel and the inference is you all saw her as easy prey. She didn't really understand what was on your mind and that is probably because she was a naïve and sexually inexperienced and vulnerable young girl.
"When you were running around that hotel she probably saw this as innocent, childish fun, but it all turned sinister when you got her into the bathroom. She found herself in a situation she was totally unable to control. She found herself confronted with demands for sexual activity she did not wish to engage in and did not willingly consent. She had no choice and no opportunity to refuse."
In a victim impact statement read to the court, the teenager said she was still suffering the psychological and emotional trauma in the aftermath of the attacks and no longer felt confident to go out of the house and her education had suffered.
The case sparked protests from Manchester's Somalian community with 60 people outside the court protesting against the verdicts. They claimed the men were being 'victimised' because the victim was a white woman.
All three men continued to protest their innocence, while other men who had a sexual encounter with the victim on the same day have not been arrested Mail Online reports.