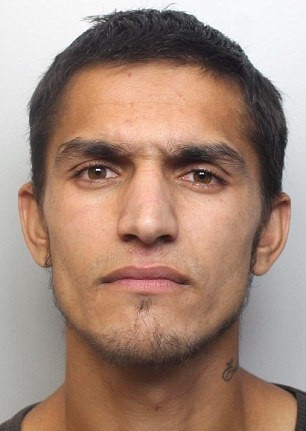 The victim of a brutal rape at a Leeds bus stop only survived because of her hijab, it has been revealed. On March 6, the 18-year-old victim was waiting at a bus stop in the Beeston area of Leeds, West Yorkshire, when she was dragged into an adjacent garden by Zdenko Turtak, 21.
She was bludgeoned over the head 20 times with a rock and then brutally raped and left for dead. The entire attack was caught on the CCTV video of a neighbouring property. The chilling footage shows passers-by walking by the house, and a crowd of people getting off a bus nearby, oblivious to the horror unfolding just a few feet away.
The victim was left with a broken hip and a fractured skull prompting police to upgrade the charge from rape to attempted murder due to the severity of the woman's injuries. Detectives revealed that she was only saved by the hijab and hood protecting her head from the blows of his rock.
Turtak returned to his native Slovakia after the savage attack, but following a police appeal he was found and a warrant for his extradition and arrest was issued by officers from West Yorkshire Police Homicide and Major Enquiry Team. He pleaded guilty to rape, but denied charges of attempted murder.
Mail Online reports that an image of the Slovakian national was released today as the CPS confirmed his guilty plea has been accepted. Turtak is currently in custody at HM Prison Wakefield and did not appear in court. Defending, Robin Frieze said Turtak claims his client has no recollection of the crime, but added that the defence accepts it was evident from CCTV footage that he had been stalking women in Leeds city centre earlier in the evening, before making his way to the outskirts.
Turtak will be sentenced on October 19.